Collection Online
Browse By
Browse By Museum
Browse By Major Acquisition
Vasily Kandinsky
b. 1866, Moscow; d. 1944, Neuilly-sur-Seine, France
Biography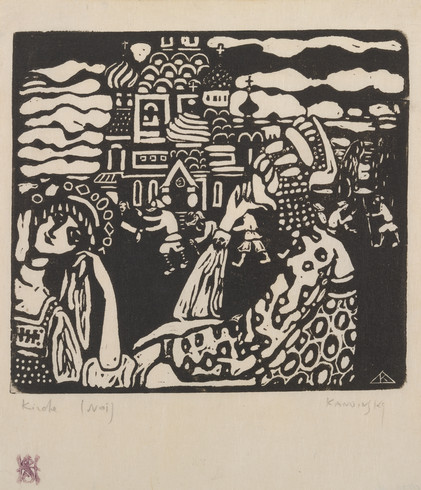 In 1907, Vasily Kandinsky produced numerous original woodcuts featuring women in traditional Russian costumes, embodying the romantic, fairytale imagery Kandinsky favored early in his career. Among them, Birches (Schalmei), Women in the Woods (Frauen im Wald), Two Birds (Zwei Vögel), and Church (Kirche)—as well as another woodcut, Horsemen—were reissued as photogravures with the title Xylographies in the Parisian magazine Les Tendances Nouvelles in 1909. The title draws attention to the pervasive musical elements of the portfolio. Kandinsky's fascination with music's emotional power inspired his later abstract compositions, and was a lifelong interest for the artist.
Free Guggenheim App
Download the app to explore the Guggenheim collection, plan your visit, watch videos, and more.
Send a personalized greeting today!
Guggenheim Books
Visit the Online Store to purchase exhibition catalogues, e-books, and more.