Collection Online
Browse By
Browse By Museum
Browse By Major Acquisition
Vasily Kandinsky
b. 1866, Moscow; d. 1944, Neuilly-sur-Seine, France
Biography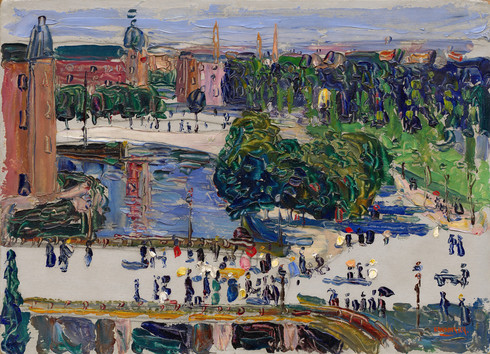 Although known for his groundbreaking abstract experiments in painting, Vasily Kandinsky's early paintings capture his days as a representational artist. After moving to Munich to study painting in 1896, he began to create picturesque, open-air oil sketches of his surroundings. For example, the house depicted in Munich (München, ca. 1901–02) is typical of a small group of houses still standing in the vicinity of Kandinsky's first residence in the city. He continued this practice between the years of 1903 and 1908, during which he traveled extensively between Germany and Russia. The scene depicted in Amsterdam—View from the Window (Amsterdam—Blick aus dem Fenster, 1904) is a neat encapsulation of the niceties of Amersterdam: the view is from an upper window of the American Hotel on the Leidseplein, showing the bridge over the Singel gracht, the towers of the Lido, the Vondelpark, and the Park Hotel. Fishing Boats, Sestri (Fischerboote, Sestri, 1905) and Pond in the Park (Parkteich, ca. 1906) represent the artist's impressions of other cities and landscapes that he visited during this period. Such works reveal Kandinsky's strong interest in the tradition of capturing light and the life of cities evident in Impressionism and Post-Impressionism, as well as his love of vibrant and expressive color.
Free Guggenheim App
Download the app to explore the Guggenheim collection, plan your visit, watch videos, and more.
Send a personalized greeting today!
Guggenheim Books
Visit the Online Store to purchase exhibition catalogues, e-books, and more.