Collection Online
Browse By
Browse By Museum
Browse By Major Acquisition
Asger Jorn
b. 1914, Vejrum, Denmark; d. 1973, Aarhus, Denmark
Biography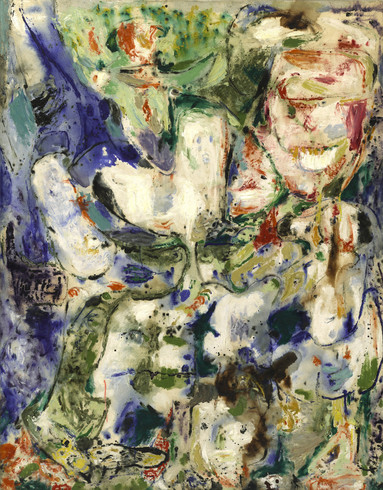 From about 1948 Asger Jorn filled his canvases with swarming faces and figures, vaporous equivalents of the eccentric visages in crowd scenes by the Belgian artist James Ensor. Their scrawled, half-innocent, half-demonic features also have antecedents in the creatures of Jean Dubuffet and Paul Klee. These presences hovering on the surface of the canvas are integrated with their surroundings, scarcely distinguishable as representational forms. In the present canvas blobs of paint and linear contours coalesce into a standing, grinning human figure at the right and a bird in the center; a multitude of faces, less acutely defined, emerge, vanish, and reappear in the seething environment. Wherever two dots can be interpreted as eyes, a face can be imagined.
The sense of fantasy here is complemented by the candied color applied in thicknesses ranging from thin veneer to heavy ridges. Line incises its way through the fluffy space of this layered pigment to determine boundaries and suggest form. The dots of color sprinkled throughout anticipate the pointillism of the artist's Luxury Paintings of the early 1960s, in which paint is dripped onto the canvas from a perforated tin can. The accidental revelation of form and the importance of chance in Jorn's work suggest Surrealist concerns.
Lucy Flint
Free Guggenheim App
Download the app to explore the Guggenheim collection, plan your visit, watch videos, and more.
Send a personalized greeting today!
Guggenheim Books
Visit the Online Store to purchase exhibition catalogues, e-books, and more.