Collection Online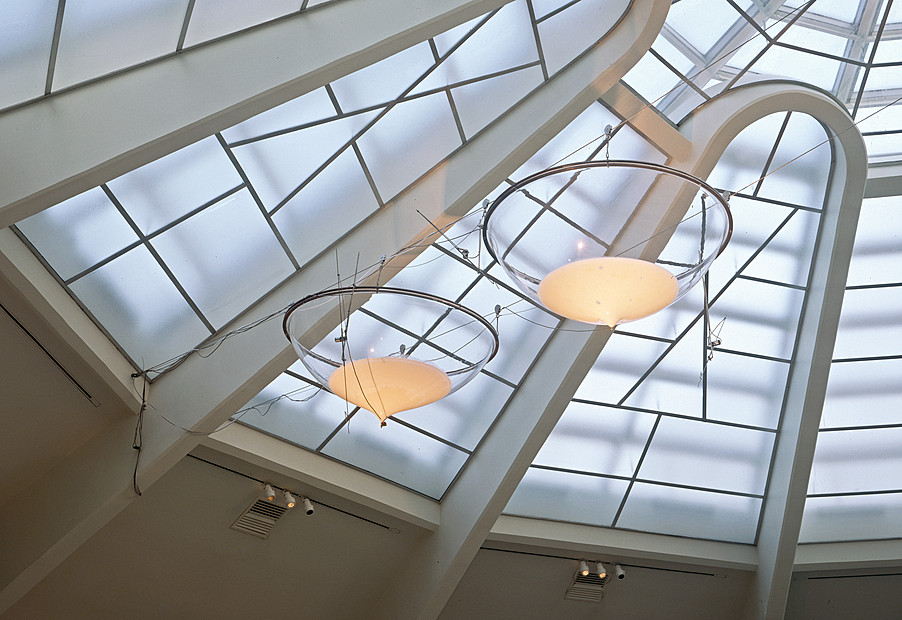 Rebecca Horn
Paradiso
Artist
Rebecca Horn b. 1944, Michelstadt, Germany
Title
Paradiso
Date
Medium
Plexiglas, pumping system, lightning machines, fox machines, water, and ink
Dimensions
dimensions variable
Credit Line
Solomon R. Guggenheim Museum, New York Gift of the artist, 1993
Accession
93.4232
Copyright
2016 Artists Rights Society (ARS), New York/VG Bild-Kunst, Bonn. Photo: David Heald © SRGF
Artwork Type
Movement
Located in the nexus between body and machine, Rebecca Horn's work transmogrifies the ordinary into the enigmatic. In a career that has spanned more than 30 years and traversed varied stylistic ground—from Performance to sculptural installations and feature-length films—Horn has continually returned to the body, the source of her beginnings as an artist. Her sculptural props and related performances of the 1960s and 1970s grew out of a lengthy period of physical recuperation during which she was limited to working while confined to bed. Both protective and restrictive, her sculptural prostheses and cocoonlike garments—the horn of a unicorn that emerges from the head of its wearer's nearly naked body, gloves that increase the fingers' reach nearly tenfold—simultaneously extend and encumber the body, forming artificial appendages that force a Kafkaesque rumination on the treachery of the body's vagaries.
In the early 1980s the augmented body ceded in Horn's work to mechanized sculptural installations in which ordinary objects spring to life and engage in carefully choreographed ballets. These beguiling and unsettling contraptions in which spoons seem to kiss and violins to serenade one another take on a bodily tempo as they spasmodically whir and rest and whir again. In Blue Monday Strip vintage typewriters are liberated from the orderly office world and set akimbo, transformed into an unruly lot whose keys chatter ceaselessly in a raucous dialogue. Occasionally, as if to squelch their staccato, a spatter of blue paint showers on them. As in the sexualized world of Horn's inventions, here the clacking machines seem to personify a pool of glum secretaries who find themselves once again behind their typewriters on a Monday morning, as suggested by the title.
Whether mechanomorphic bodies or anthropomorphic machines, all of Horn's works are fraught with sexual allusions and the ache of desire. In Paradiso, created specifically for the Guggenheim Museum on the occasion of Horn's 1993 retrospective there, two swollen, breastlike funnels are suspended high above the museum's rotunda. With metronomelike regularity, a milky liquid is excreted from the breasts and falls into the pool far below, creating an almost palpable tension in which the entire building seems to hold its breath in anticipation of the next drip. The reference to Dante implicit in the work's title is underscored by crackling lightning rods, and the dark and haunting companion piece to this light-filled and ethereal work—Inferno, installed concurrently at the Guggenheim Museum SoHo.
J. Fiona Ragheb