Collection Online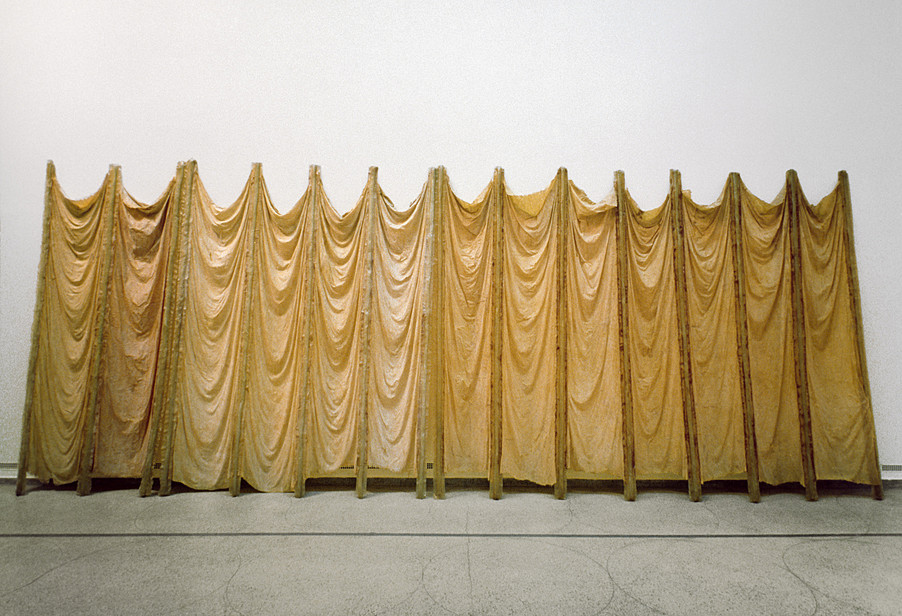 Eva Hesse
Expanded Expansion
Artist
Eva Hesse 1936-1970
Title
Expanded Expansion
Date
Medium
Fiberglass, polyester resin, latex, and cheesecloth
Dimensions
10 feet 2 inches x 25 feet (309.9 x 762 cm) overall
Credit Line
Solomon R. Guggenheim Museum, New York Gift, Family of Eva Hesse, 1975
Accession
75.2138
Copyright
Eva Hesse. Photo: David Heald (1986, New York)
Artwork Type
Movement
When Eva Hesse came to maturity as an artist during the mid-1960s, the women's movement and the sexual revolution were emerging as powerful, liberating forces in the U.S. It was a time when voices of the counterculture gained widespread recognition. The urge toward radical reappraisal and reform was manifest in the art world as well—Pop art and Minimalism displaced Abstract Expressionism through their categorical dismissal of artistic subjectivity and the heroic gesture. Almost immediately, however, artists questioned the geometric rigidity of Minimalism and the limitations of the Pop idiom. Finding inspiration in the human body, the random occurrence, the process of improvisation, and the liberating qualities of nontraditional materials such as industrial felt, molten lead, wax, and rubber, these artists mined a new aesthetic sensibility variously known as Anti-Form, Post-Minimalism, or Process art.
During her brief career Hesse contributed to this radical undermining of artistic convention with her abstract yet sensual sculptural works. She rejected the standard attributes of monumental sculpture—volume, mass, and verticality—in favor of eccentric forms made from rope, latex, and cheesecloth, all of which decompose with time. Her goal, she explained, was to portray the essential absurdity of life. In formal terms, this theme was realized through a wedding of contradictions: "order versus chaos, stringy versus mass, huge versus small," in the artist's words. Acutely aware of the challenges faced by a female artist in a predominantly male environment, Hesse may have utilized such formal opposites as a metaphor for her own position in the art world and to emphasize the inherent strength of flexibility and vulnerability.
Expanded Expansion is a sculptural embodiment of opposites united. Both permanence and deterioration operate in the piece: fiberglass poles—rigid, durable entities—are juxtaposed with fragile, rubber-covered cheesecloth. While its height is determined by the poles, the width of the piece varies with each installation; like an accordion or curtain, it can be compressed or extended. Its repetitive units echo the programmatic seriality of Minimalism, but here they accentuate Hesse's desire to illuminate her view that "if something is absurd, it's much more exaggerated, more absurd if it's repeated." The very redundancy of the title reinforces this idea.
Nancy Spector