Collection Online
Browse By
Browse By Museum
Browse By Major Acquisition
Agnes Martin
b. 1912, Macklin, Saskatchewan, Canada; d. 2004, Taos, New Mexico
Biography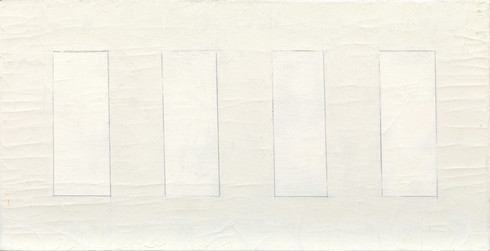 Agnes Martin based her art on deeply held personal beliefs about the nature of truth, beauty, and perfection. Raised on the plains of Western Canada, Martin developed core principles—self-reliance, pragmatism, humility, and egalitarianism—early on that would underlie her spare artistic style. Indeed, many critics have written about the influence of Martin's native landscape on her flat painted backgrounds. In 1957, she moved to New York, where she became part of a tight-knit group of artists—including Jasper Johns and Robert Rauschenberg—who reacted against the grand, self-referential gestures of Abstract Expressionism. Martin's pared-down visual language combined drawing and painting techniques with simple geometric shapes. Untitled is the earliest work by the artist to enter the Guggenheim's collection. Dating from 1959, a pivotal year in which Martin began formal experiments that would lead to her iconic grid paintings, it is comprised of four vertical rectangles drawn in graphite across a pale pink-white ground. The freely drawn pencil lines display the hand of the artist and introduce an element of craft into the work. Like the related pieces White Flower and Little Sister (both 1962) already in the museum's collection, Untitled invites viewers to meditate on its elemental beauty.
Robin Kaye Goodman
Free Guggenheim App
Download the app to explore the Guggenheim collection, plan your visit, watch videos, and more.
Send a personalized greeting today!
Guggenheim Books
Visit the Online Store to purchase exhibition catalogues, e-books, and more.