Collection Online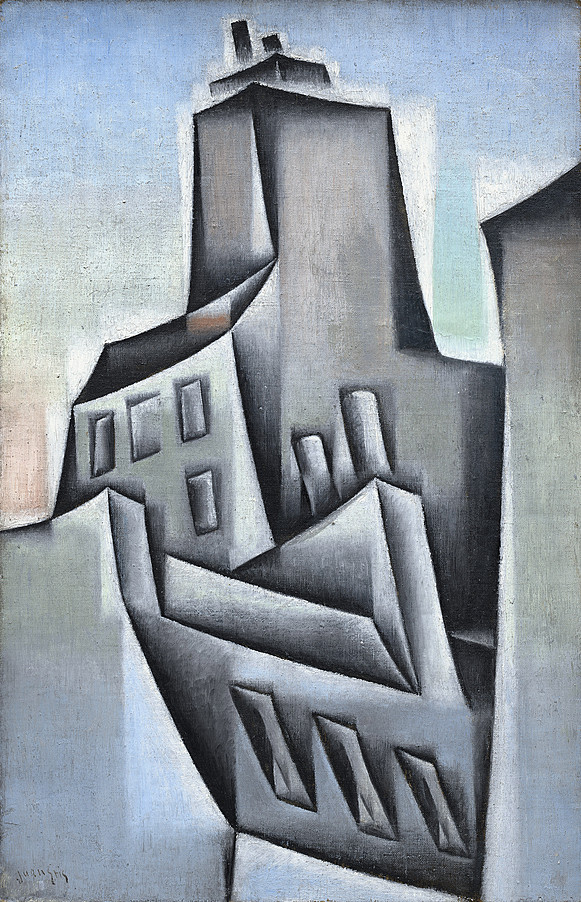 Juan Gris
Houses in Paris (Maisons à Paris)
Artist
Juan Gris b. 1887, Madrid; d. 1927, Boulogne-sur-Seine, France
Title
Houses in Paris (Maisons à Paris)
Date
Medium
Oil on canvas
Dimensions
20 5/8 x 13 1/2 inches (52.4 x 34.2 cm)
Credit Line
Solomon R. Guggenheim Museum, New York Estate of Karl Nierendorf, By purchase
Accession
48.1172.33
Artwork Type
Movement
Beginning in 1902, Juan Gris contributed drawings to illustrated journals, first in his birthplace Madrid and then in Paris, where he settled in 1906. Working in an Art Nouveau style, he supported himself with his humorous and satirical drawings and caricatures. Gris resided at Le Bateau Lavoir at 13, rue Ravignan, where Pablo Picasso also lived. Witness to the birth of Cubism, Gris embraced the revolutionary approach and participated in its early evolution. In Houses in Paris (Maisons à Paris), one of at least six canvases of his Montmartre neighborhood painted in 1911, the artist experimented with tropes he learned from Picasso and Georges Braque while retaining his own sensibility and color palette. Creating severely flattened architectural spaces and rendering passages of shadow and light on their own plane, Gris applied a modern technique to the urban landscape—as Robert Delaunay and Fernand Léger were doing in their canvases—while drawing on his work as an illustrator for the juxtaposition of shapes, strong tonal contrasts, and overall visual rhythm of the surface.
The outbreak of World War I dispersed many in Gris's milieu, the artists and writers central to Cubism's development in Paris. Guillaume Apollinaire, Braque, André Derain, Albert Gleizes, Léger, and Louis Marcoussis, among many others entered military service from which Gris was exempt due to his Spanish citizenship. Renowned dealer Daniel-Henry Kahnweiler who represented Gris since 1912 was forced to leave Paris for Bern, Switzerland. In November 1917 Léonce Rosenberg took up the sales of Gris's work, and during the same month Gris painted Fruit Dish on a Checkered Tablecloth (Compotier et nappe à carreaux). Like other still lifes from this period, this work is particularly rich in texture and color, featuring overlapping patterns and compositional elements that reflect the artist's practice in collage.
Despite Cubism's break with traditional painting, such as eliminating the representation of depth in this canvas, Gris valued the conventions of painting still lifes and shunned the explorations into total abstraction that was of interest to some Cubists such as Jean Metzinger and Amédée Ozenfant. Gris admitted to studying the subjects and methods of the old masters—Ozenfant called him "a specialist in museums"—in his effort to reconcile modern expression and historical traditions. Rooted by the still-life legacy essential to Spanish painting, Gris maintained a reverence for the object and the poetic metaphors that could be suggested by the evocative combination of these objects.
Tracey Bashkoff