Collection Online
Browse By
Browse By Museum
Browse By Major Acquisition
Harold Stevenson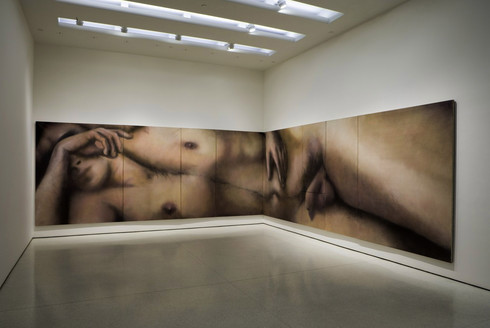 Visitors to the Galerie Iris Clert, Paris, in early 1963 were hardly prepared for the painting that greeted them: a colossal, 40-foot-long male nude, precisely and sensually rendered in full anatomical detail. In Paris and later in New York, Chicago, and L.A., the work was greeted with "shock," recalls Harold Stevenson, who conceived The New Adam as an homage to his lover, Lord Timothy Willoughby (though the actor Sal Mineo was his model). Spread over nine panels and initially installed as a three-wall wraparound, the work presents a vast, seemingly unbounded ocean of flesh. Art historian and Guggenheim curator Robert Rosenblum has located it within the American tradition of "Gigantism," which ranges from sublime 19th-century landscapes of the West to the sprawling abstractions of Barnett Newman and Clyfford Still. The work bears a particular relationship to James Rosenquist's monumental, multipanel, Realist wraparound, F-111 (1964–65), which it predates. It also engages a much older tradition in art, recalling countless female odalisques, as well as Michelangelo's iconic image of Adam, whose pointing gesture Stevenson redirects inward, toward the body. The New Adam was once considered for inclusion in Six Painters and the Object (1963), an important early Pop exhibition at the Guggenheim, but it was judged to distract from the thesis of the show. Over 40 years later, the museum is honored to have this landmark of art history join its permanent collection.
Ted Mann
Free Guggenheim App
Download the app to explore the Guggenheim collection, plan your visit, watch videos, and more.
Send a personalized greeting today!
Guggenheim Books
Visit the Online Store to purchase exhibition catalogues, e-books, and more.