Collection Online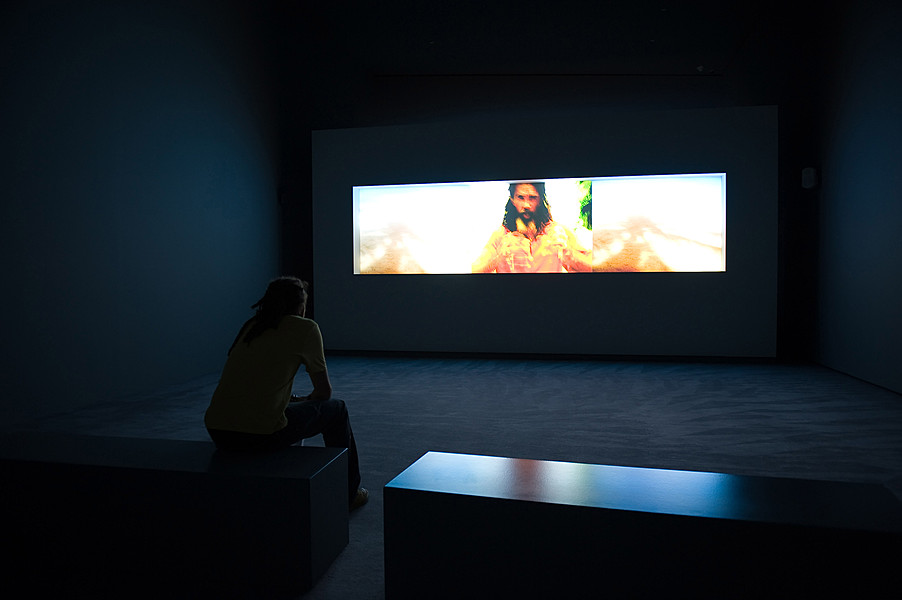 Isaac Julien
Paradise Omeros
Artist
Isaac Julien b. 1960, London
Title
Paradise Omeros
Date
Medium
Three-channel video projection, with sound, 20 min., 29 sec.
Edition
edition 1/4
Credit Line
Solomon R. Guggenheim Museum, New York Gift, The Bohen Foundation, 2005
Accession
2005.36
Copyright
Isaac Julien. Installation view: Installations II: Video from the Guggenheim Museum Collection, Guggenheim Museum Bilbao, March 3, 2009–January 31, 2010. Photo: David Heald © SRGF
Isaac Julien's three-channel video Paradise Omeros (2002) explores the social, political, and emotional terrain of postcolonial identity through a richly imagined, elliptical narrative that steps outside the bounds of linear time to link two island cultures: 1960s England and contemporary Saint Lucia. The video's protagonist, Achille, appears in both locations, first working as a waiter at a brilliantly colorful tropical resort and later wandering through bleak and gray London housing projects. Dreamlike scenes of the ocean and a lively party in an immigrant's apartment speak to the beauty of his world; vignettes of a burning cabin and domestic brutality also imply that violence and anxiety lie just beneath the surface.
Over the course of the video, Achille becomes a sort of Everyman, symbolizing the Caribbean diaspora. Inspired by Saint Lucian author Derek Walcott's extended poem Omeros (1990), which took its own title from epic poet Homer's name in ancient Greek, Paradise Omeros constructs a deeply personal yet mythic narrative of the Creole—a hybrid identity that encompass multiple cultures, histories, and sites of origin.
Nat Trotman