Collection Online
Browse By
Browse By Museum
Browse By Major Acquisition
Adolph Gottlieb
b. 1903, New York City; d. 1974, New York City
Biography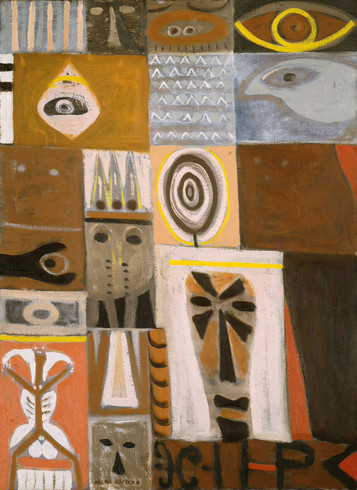 In the early 1940s, Adolph Gottlieb was one of several American artists who responded to the horrors of the Second World War by turning to archaic myth and so-called primitive art. Dismissing the reigning schools of American painting as hopelessly provincial and inadequate to the historical moment, yet wishing to forge a path distinct from European Surrealism, Gottlieb found in the tribal art of Africa, Oceania, and North America a model for the expression of essential, universal truths. His belief in a "global language of art" lay behind the series of paintings he initiated in 1941, his Pictographs, which he continued until the end of the next decade. In these works, Gottlieb placed hieroglyphic-like and totemlike signs—from body parts, such as eyes and hands, to schematized animals—in the cells of flat, loosely painted grids. The grid format had its immediate antecedent in a group of enigmatic still lifes (1939–40), featuring objects set into boxes with multiple compartments. Critics and art historians have pointed to numerous art-historical precedents for this motif, such as the paintings of Piet Mondrian and Joaquin Torres-García as well as the box constructions of Joseph Cornell. For Gottlieb, however, the nonhierarchical compartmentalization of the canvas was primarily a vehicle for facilitating the mysterious juxtaposition of archetypal signs. Gottlieb arranged his signs intuitively, in a process he described as free association, and he intended for the paintings to be received at a purely visual level, rather than read and deciphered like language. While his earliest Pictographs take the Oedipus myth as their subject, those of the mid-1940s, such as Augury (1945), are broader in reference, with titles suggesting magic and prophecy.
Gottlieb's paintings underwent another significant transformation in the 1950s, as he abandoned the grid, simplified his forms, and greatly increased the scale of his canvases. In the vertical Bursts he began in 1957, of which Mist (1961) is an example, a diffused, disclike form in the upper zone hovers over an explosion of calligraphic brushstrokes in the lower zone. Despite their abstraction, the Bursts call forth a range of associations, from landscapes and cosmic forms to nuclear mushroom clouds. Although at first glance these works may appear wholly unrelated from the earlier Pictographs, both series rely on the juxtaposition of forms and are characterized by an underlying dualism. While the Pictographs merge irrational symbols and an automatist process with the rational, preconceived order of the grid, the Bursts assemble in single canvases the two poles of Abstract Expressionist painting—the so-called Color Field and Action schools of Gottlieb's contemporaries—in a tense balance.
Ted Mann
Free Guggenheim App
Download the app to explore the Guggenheim collection, plan your visit, watch videos, and more.
Send a personalized greeting today!
Guggenheim Books
Visit the Online Store to purchase exhibition catalogues, e-books, and more.