Collection Online
Browse By
Browse By Museum
Browse By Major Acquisition
Felix Gonzalez-Torres
b. 1957, Guáimaro, Cuba; d. 1996, Miami
Biography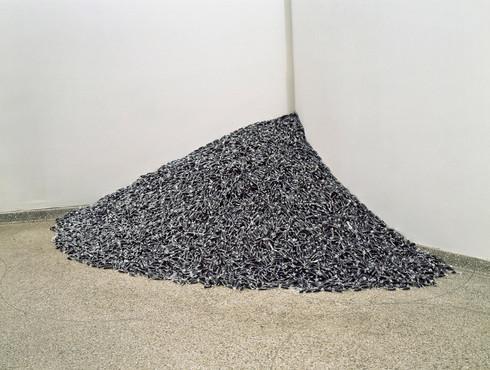 Felix Gonzalez-Torres's pristine stacks of imprinted paper and eccentric candy spills—which he arranged in corners and across floors—are subversive rearticulations of Minimalism's nonrepresentational aesthetic. While recalling Carl Andre's metal carpets, Donald Judd's sequenced boxes, and Robert Morris's Corner Piece of 1964, they undermine the supposed neutrality of such work. He reintroduced what has been sublimated in much Modernist art—desire, loss, vulnerability, and anger—with a potent but quiet poignancy through texts inscribed on giveaway paper sheets and subtitles appended to "untitled" works. Free for the taking and replaceable, Gonzalez-Torres's perpetually shrinking and swelling sculptures defy the macho solidity of Minimalist form, while playfully expanding upon the seriality of the genre and the quotidian nature of its materials.
His early text pieces are lists of seemingly random historical incidents followed by the dates of their occurrence, for example, Pol Pot 1975 Prague 1968 Robocop 1987 H Bomb 1954 Wheel of Fortune 1968 Spud. Concurrently, he created similar inventories of gay-rights events and the AIDS crisis, culminating in the 1989 Greenwich Village billboard on which he commemorated in list form a history of oppression, illness, and activism. A self-acknowledged gay man who suffered the death of his longtime companion, Gonzalez-Torres expressed his grief and love for this man—as well as his outrage at a social system that marginalizes homosexuals—in much of his work. A stack piece bearing the simple message "Memorial Day" gives a new, haunting meaning to this generally trivialized American holiday; the festive and seductive spill of silver-wrapped candies subtitled Placebo (1991) ironically invokes the controversial and discriminatory modes of drug-testing in AIDS research. Untitled (Public Opinion), a 700-pound spill of black-rod licorice pieces, displayable as either a corner piece or a carpet, is a dark, aggressive work. The missilelike shape of the candy and its brooding, almost sinister, appearance alludes to our culture's pervasive militaristic outlook and hostile hegemonic stance. As an artwork produced in a conservative political climate, the sculpture also refers to the still pervasive censorship in America and suggests that public opinion is not as informed as it once was.
Nancy Spector
Free Guggenheim App
Download the app to explore the Guggenheim collection, plan your visit, watch videos, and more.
Send a personalized greeting today!
Guggenheim Books
Visit the Online Store to purchase exhibition catalogues, e-books, and more.