Collection Online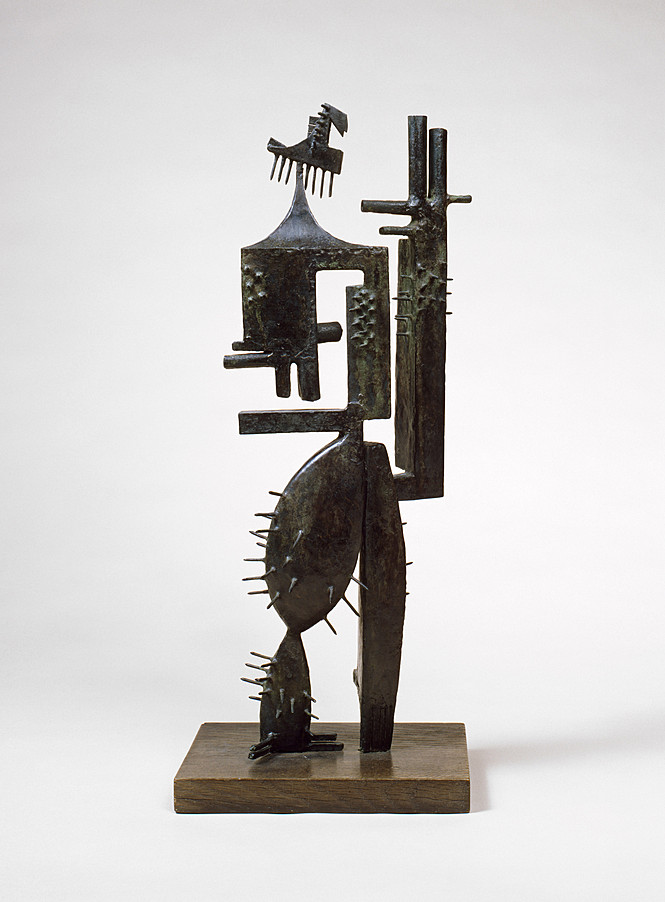 Julio González
"Monsieur " Cactus (Cactus Man I) ("Monsieur " Cactus [Homme Cactus I])
Artist
Julio González b. 1876, Barcelona; d. 1942, Arcueil, France
Title
"Monsieur " Cactus (Cactus Man I) ("Monsieur " Cactus [Homme Cactus I])
Date
Iron original completed August 24, 1939, Arceuil; cast 1953–54
Medium
Bronze and patina
Dimensions
23 5/16 x 9 13/16 x 6 11/16 inches (64.3 x 25 x 17 cm)
Credit Line
The Solomon R. Guggenheim Foundation Peggy Guggenheim Collection, Venice, 1976
Accession
76.2553.136
Copyright
2016 Artists Rights Society (ARS), New York/ADAGP, Paris. Photo: David Heald
Artwork Type
Movement
During the late 1930s Julio González worked simultaneously in naturalistic and abstract idioms. His abstract mode constituted an important contribution to the development of avant-garde sculpture in both Europe and the United States. This mode is exemplified by "Monsieur" Cactus of 1939, in which he returns to the metamorphic theme of several earlier sculptures. As in works by other Spanish artists living abroad during the Civil War, the figure is anguished—see, for example, Joan Miró's Seated Woman II or Pablo Picasso's Guernica of 1937. Indeed, several of the more literal preparatory drawings for the sculpture, dating from December of 1938, suggest that the figure is shrieking; the prickly nails intensify the aggressive effect of the work, recalling Picasso's use of nails in his Guitar of 1926. Though the distortion and dislocation of anatomical features make positive identification difficult, with the aid of the drawings one can read a raised arm joined to the hip, its five fingers spread like a cluster of cylindrical cactus stems. The analogous five-fingered block to the left of the torso seems to be lowered to a position just above an angular phallus.
The companion to this sculpture, known as Cactus Man II or "Madame" Cactus, has been interpreted as the image of the Spanish peasant's defiance of Franco's fascist threat.¹ While the synthesis of human being and cactus may reflect the identification of the Spanish peasant with the land, the metamorphic figure may more generally personify the republican cause. At the end of 1938 Franco launched a major offensive against Catalonia, González's native province, and was to take its capital, Barcelona, in January of 1939, signaling the end of republican hopes. By the time the drawings for the second cactus sculpture appeared in the summer of 1939, Madrid had fallen and Franco's Falange was in full power.
Lucy Flint
1. E. A. Carmean, "Cactus Man Number Two," The Museum of Fine Arts, Houston: Bulletin (Fall 1973), p. 41. For a discussion of the titles and the meanings of the two works, see Margit Rowell, Julio González: A Retrospective, exh. cat. (New York: Solomon R. Guggenheim Foundation, 1983), pp. 188, 195.