Collection Online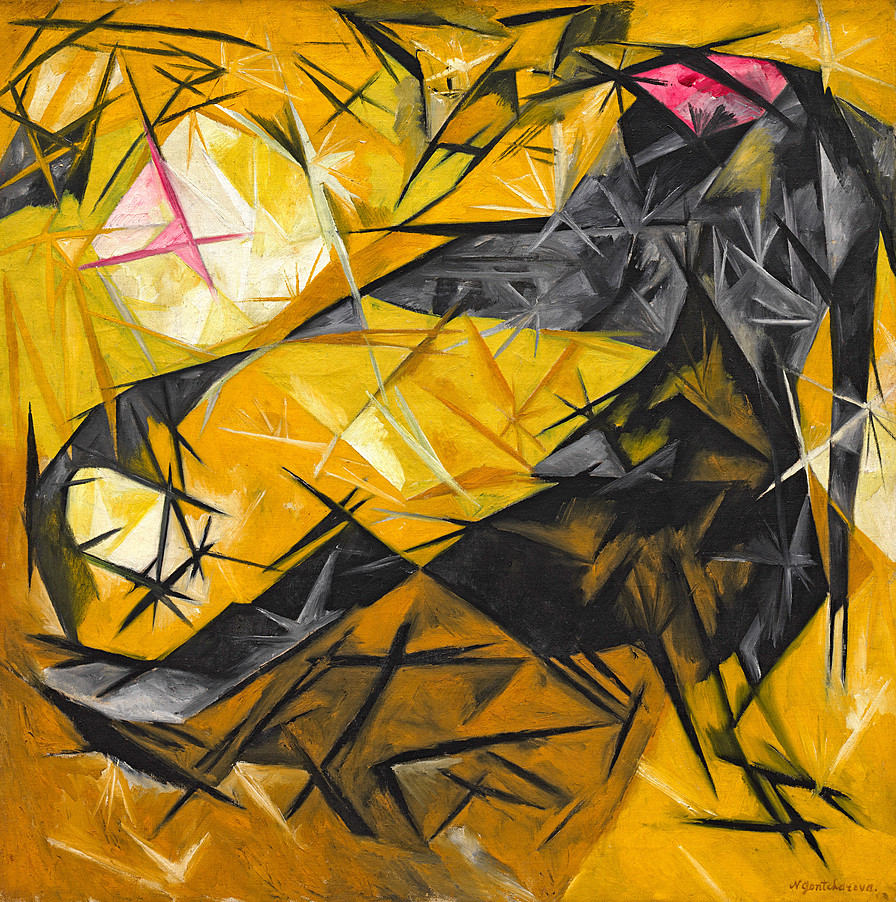 Natalia Goncharova
Cats (rayist percep.[tion] in rose, black, and yellow) (Koshki [luchistoe vospr.{iiatie} rozovoe, chernoe i zheltoe])
Artist
Natalia Goncharova b. 1881, Tula, Russia; d. 1962, Paris
Title
Cats (rayist percep.[tion] in rose, black, and yellow) (Koshki [luchistoe vospr.{iiatie} rozovoe, chernoe i zheltoe])
Date
Medium
Oil on canvas
Dimensions
33 1/2 x 33 3/4 inches (85.1 x 85.7 cm)
Credit Line
Solomon R. Guggenheim Museum, New York
Accession
57.1484
Copyright
2016 Artists Rights Society (ARS), New York/ADAGP, Paris
Artwork Type
Natalia Goncharova and Mikhail Larionov, her collaborator and companion for more than 60 years, experimented with contemporary French stylistic trends before developing a Neo-primitive vocabulary inspired by indigenous Russian folk art. In late 1912 the two artists fashioned a fusion of Cubo-Futurism and Orphism known as Rayism. Cats, painted shortly thereafter, exemplifies the new style.
Using intersecting vectors of color to depict refracted light rays, Rayist works recreate the surface play of light on objects. This perceptual approach to painting was based on scientific discoveries concerning the nature of vision, advances that had also influenced Neo-Impressionist color theories, the Cubist analysis of form, and the Futurist emphasis on dynamic lines. The nationalistic strain apparent in Italian Futurist manifestos also pervades Rayist tracts, in which the Russian theory is posited as a unique synthetic achievement of the East. In the preface to the catalogue of her 1913 Moscow retrospective exhibition, Goncharova wrote: "For me the East means the creation of new forms, an extending and deepening of the problems of color. This will help me to express contemporaneity—its living beauty—better and more vividly."
Cats, which appears to represent two black felines with a tabby in between, illustrates the Rayist view that objects may serve as points of departure for explorations on the canvas. Goncharova used darts of color to suggest the effects of light on the cats' shiny coats and the way that adjacent surfaces reflect neighboring hues. The dynamic slashes of black and white evoke the energized, machine-inspired compositions of the Futurists.
The artist's brilliant color recalls Robert Delaunay's exuberant depictions of the Eiffel Tower as well as Russian woodblock prints and painted trays. Cats also suggests the richly hued integration of animals and their environment that Franz Marc was developing contemporaneously in his own synthesis of Cubism and Futurism. Yet unlike Marc and other German Expressionist painters, Rayist painters did not seek to express spiritual goals through their art.
Jennifer Blessing