Collection Online
Browse By
Browse By Museum
Browse By Major Acquisition
Vincent van Gogh
b. 1853, Groot-Zundert, Netherlands; d. 1890, Auvers, France
Biography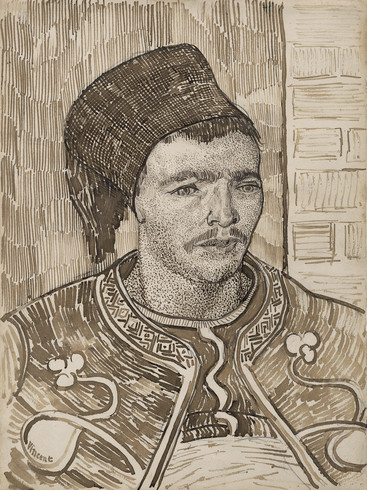 In February 1888 Vincent van Gogh left Paris for Arles, in the Provence region of southern France, where he hoped to start an artist's colony. During that summer he painted a number of portraits of locals who posed for him, including a member of the Zouave, a French infantry unit originally composed of Algerian soldiers. At the end of July and beginning of August, he created some of his most accomplished drawings, renditions of paintings he had recently made. In The Zouave, he carefully translated the expressiveness of his striking color combinations and bold brushstrokes through the variety and density of contrasting marks, including dots, striations, and intense crosshatching.
Eager for his friend Paul Gauguin to join him in Arles, Van Gogh sent this drawing and several others to the artist John Peter Russell, ostensibly as a pretext to ask Russell to buy a Gauguin painting. Though this never happened, Gauguin arrived in Arles in October; subsequently Van Gogh became progressively more agitated, resulting in a breakdown and Gauguin's departure in December. In the years prior to his suicide in 1890, Van Gogh suffered increasingly frequent attacks of mental distress, the cause of which remains unclear. Mountains at Saint-Rémy (Montagnes à Saint-Rémy) was painted in July 1889, when he was trying to recuperate at the hospital of Saint-Paulde-Mausole in the town of Saint-Rémy, not far from Arles. The painting represents the Alpilles, a low range of mountains visible from the hospital grounds. In it, he activated the terrain and sky with the heavy impasto and forceful, broad brushstrokes characteristic of his late work.
Van Gogh advocated painting from nature rather than inventing a motif from the imagination. On a personal level, he felt that painting outdoors would help to restore his health, a sentiment he often voiced when writing to his brother. He mentioned this painting several times in his letters, relating it to a passage from Edouard Rod's Le sens de la vie (The direction of life, 1889). In one note he wrote, "I rather like the Entrance to a Quarry'—I was doing it when I felt this attack coming on—because to my mind the somber greens go well with the ocher tones; there is something sad in it which is healthy, and that is why it does not bore me. Perhaps that is true of the Mountain' too. They will tell me that mountains are not like that and that there are black outlines of a finger's width. But after all it seemed to me it expressed the passage in Rod's book . . . about a desolate country of somber mountains, among which are some dark goatherds' huts where sunflowers are blooming."
Jennifer Blessing
Free Guggenheim App
Download the app to explore the Guggenheim collection, plan your visit, watch videos, and more.
Send a personalized greeting today!
Guggenheim Books
Visit the Online Store to purchase exhibition catalogues, e-books, and more.