Collection Online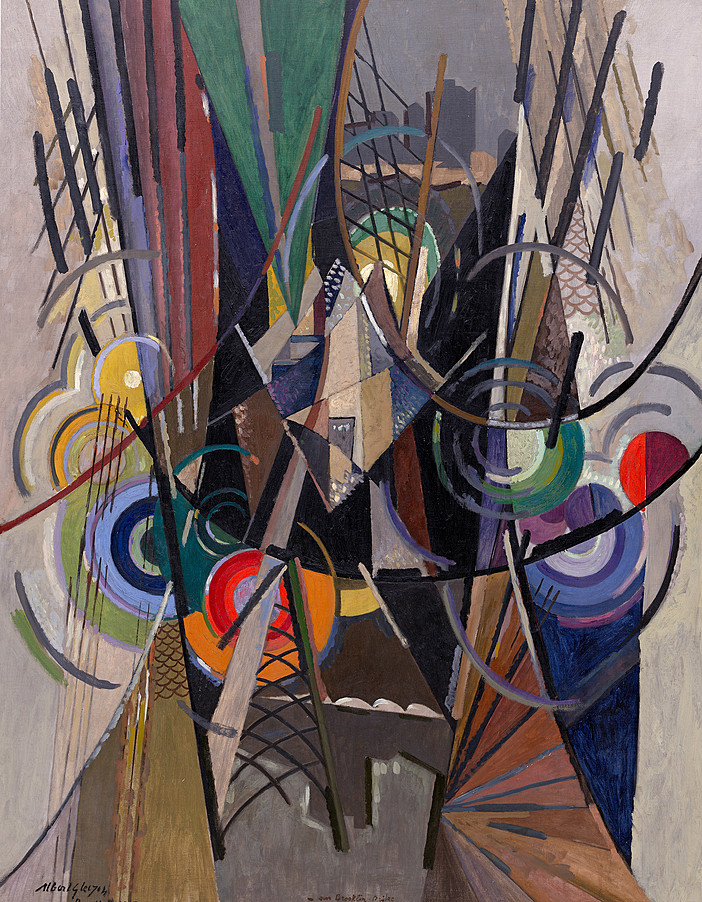 Albert Gleizes
On Brooklyn Bridge (Sur Brooklyn Bridge)
Artist
Albert Gleizes b. 1881, Paris; d. 1953, Avignon, France
Title
On Brooklyn Bridge (Sur Brooklyn Bridge)
Date
Medium
Oil on canvas
Dimensions
63 3/4 x 51 inches (161.8 x 129.5 cm)
Credit Line
Solomon R. Guggenheim Museum, New York Solomon R. Guggenheim Founding Collection
Accession
37.489
Copyright
2016 Artists Rights Society (ARS), New York/ADAGP, Paris
Artwork Type
Movement
Albert Gleizes, a self-trained Cubist painter renowned for his pioneering writings on Cubism, worked in his father's industrial-design workshop, but soon began to paint in a late Impressionist style. After four years in the French army, Gleizes became a life-long opponent of militarism and created an association of artists that contested its influence through theater and poetry. In 1906 he cofounded the short-lived utopian community Abbaye de Créteil with other like-minded painters, musicians, and writers.
As Gleizes's compositions grew more linear, he found inspiration in the subject matter and simplified forms of such painters as Henri Le Fauconnier, whom he met at the 1909 Salon d'Automne. In 1910 he participated in the Salon des Indépendants and established important ties with Robert Delaunay, Fernand Léger, and Jean Metzinger. Upon seeing Pablo Picasso's and Georges Braque's Cubist work in 1911, he wrote articles that led to the 1912 publication of Du Cubisme (On Cubism), a major treatise cowritten with Metzinger. Eventually, he advocated for two distinct schools, that of Picasso and Braque and that of the Salon Cubists, which included himself, Léger, and Metzinger.
With the outbreak of World War I, Gleizes reenlisted in the army. The experience led to the development of his spiritual identity and a strong belief in pacifism. A major work from this period is Portrait of an Army Doctor (Portrait d'un médecin militaire, 1914–15), commissioned by the doctor at his garrison. A forceful composition of geometric and semicircular interlocking planes, only the white triangles of the surgeon's gown suggest the subject's identity. Also during 1915 and 1917, Gleizes made two seminal visits to New York, where he was indelibly impressed by the city's skyline and energy. The architecture of the Brooklyn Bridge inspired a series of images celebrating this feat of modernity. In On Brooklyn Bridge (Sur Brooklyn Bridge, 1917), concentric forms and stark diagonals dynamically interlock, suggesting the bridge's complex engineering. It was also during this time that Gleizes had his first solo exhibition in Europe.
By 1927, Gleizes had moved to the country and established the art colony Moly-Sabata, espousing a return to agriculture and manual crafts. He remained involved with the Parisian art world, however, and in 1930 was associated with the group Cercle et Carré (Circle and Square, which was later absorbed by Abstraction-Création [Abstraction-Creation], an international forum for abstract painting). In 1934 he abandoned strict nonrepresentational painting for figurative murals. With the outbreak of World War II, he joined the Roman Catholic Church and turned to religious subjects.
Karole Vail