Collection Online
Browse By
Browse By Museum
Browse By Major Acquisition
Alberto Giacometti
b. 1901, Borgonovo, Switzerland; d. 1966, Chur, Switzerland
Biography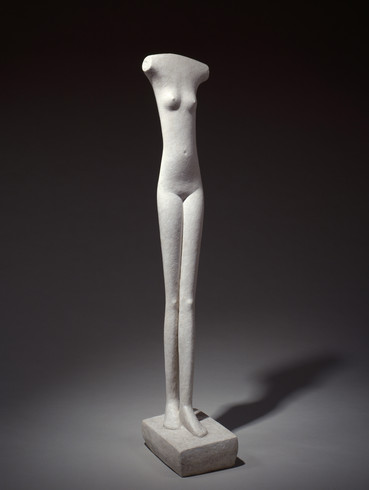 This sculpture is conceived in the rational and formally serene mode Alberto Giacometti pursued concurrently with his dark Surrealist explorations of the subconscious. Woman Walking has none of the ferocity of Woman with Her Throat Cut, though both works were executed during the same period. The graceful, calm plaster seems to have its source in the frontal figures of ancient Egypt, posed with left feet slightly ahead of right in fearless confrontation of death. Despite the pose, Woman Walking, like its Egyptian ancestors, conveys no sense of movement. The plane of the body is only slightly inflected by the projections of breasts, belly, and thighs. The long, thin legs are smooth, solid, and columnar. In its flatness, the work evokes the traditions of the highly simplified Cycladic figure and the geometric kouros of archaic Greece. Giacometti is known to have copied works of art at the Louvre, during his travels, and even from reproductions, showing a preference for models characterized by a high degree of stylization. Woman Walking also reflects Giacometti's awareness of twentieth-century sculptors, particularly Constantin Brancusi and Alexander Archipenko.
Another plaster version of the sculpture, also probably dating from 1932 (formerly Collection Erica Brausen, London), is distinguished by a triangular cavity in the upper abdomen. The generalization and distortion of form in these works forecast Giacometti's development of the elongated style for which he is best known.
Lucy Flint
Free Guggenheim App
Download the app to explore the Guggenheim collection, plan your visit, watch videos, and more.
Send a personalized greeting today!
Guggenheim Books
Visit the Online Store to purchase exhibition catalogues, e-books, and more.