Collection Online
Browse By
Browse By Museum
Browse By Major Acquisition
David Altmejd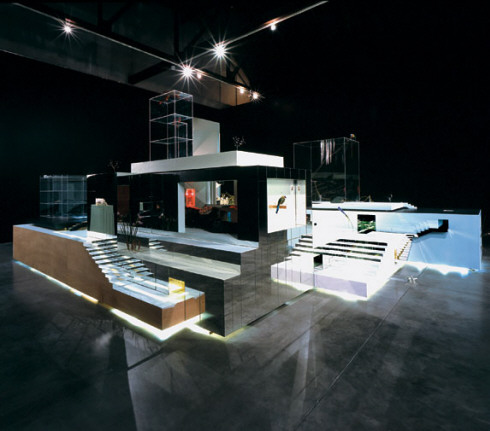 From a distance, David Altmejd's The University 2 (2004) suggests a modernist architectural model or a mirrored geometric sculpture. Peering into its recessed platforms and reflected inner cavities, however, one is confronted by several ghoulish specimens: decomposing werewolf heads and body parts, frighteningly realized in plaster and fake hair. The figure of the man/beast—with its long lineage from ancient Greek myth to Victorian gothic tales to Hollywood B-movies—lies at the center of Altmejd's fantastical and cryptic iconography. While Altmejd's monsters do not participate in any kind of resolvable narrative, they nevertheless serve as potent symbols of transformation. Rather than simply rot, his werewolves undergo postmortem metamorphosis, their carcasses sprouting crystals and jewels. Along with the handmade plastic flowers and birds that are scattered throughout the piece, the overall effect of these bejeweled remains is one of beauty. Despite its dark content, Altmejd's work offers a hopeful vision: with decay comes the promise of regeneration. Altmejd conceives of his installations as living organisms pulsing with potential energy, and he has described the labyrinthine architectural structures that house his creatures as the systems that both trigger and circulate this energy.
Ted Mann
Free Guggenheim App
Download the app to explore the Guggenheim collection, plan your visit, watch videos, and more.
Send a personalized greeting today!
Guggenheim Books
Visit the Online Store to purchase exhibition catalogues, e-books, and more.