Collection Online
Browse By
Browse By Museum
Browse By Major Acquisition
Siemon Allen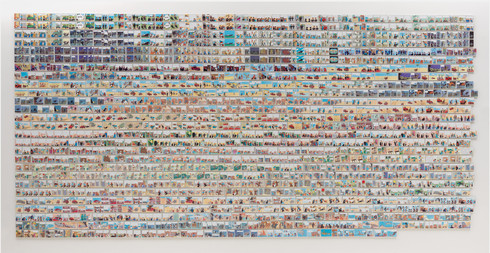 This installation draws its content from Hergé's comic book series Les aventures de Tintin (The Adventures of Tintin, 1929–83), in particular Tintin au pays de l'or noir (Land of Black Gold). First published serially between 1939 and 1940, the comic was set in the British Mandate of Palestine and revolved around conflicts among Zionist Jews, insurgent Arabs, and colonial British troops. However, when preparing the English edition in 1972, Hergé altered the plot significantly, removing all reference to Britain and relocating the story to the fictional kingdom of Khemed. Here Allen assembles the two complete editions of the comic as long strips that unfurl in tandem, beginning identically but soon diverging into a jumble of disparate images. To signify the malleability of the narrative, he removed all dialogue from the speech bubbles. Allen thus provides a unique view into the shifting political terrain of the mid-20th century, suggesting the ways that Israelis and Palestinians have found themselves spoken for by the economic and religious struggles of their region throughout much of the last century.
Nat Trotman
Free Guggenheim App
Download the app to explore the Guggenheim collection, plan your visit, watch videos, and more.
Send a personalized greeting today!
Guggenheim Books
Visit the Online Store to purchase exhibition catalogues, e-books, and more.