Collection Online
Browse By
Browse By Museum
Browse By Major Acquisition
Dan Flavin
b. 1933, Jamaica, New York; d. 1996, Riverhead, New York
Biography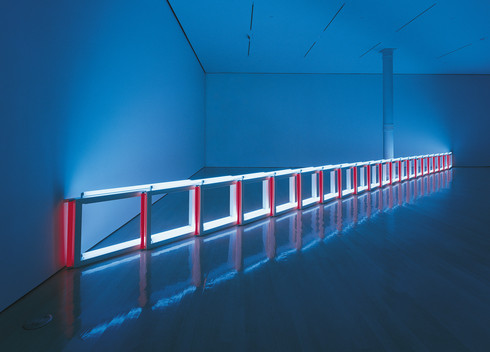 Dan Flavin realized his first full installation piece, greens crossing greens (to Piet Mondrian who lacked green), for an exhibition at the Van Abbemuseum, Eindhoven, Netherlands, in 1966. Two years later, at the Gemeentemuseum Den Haag, The Hague, Netherlands, Flavin erected an artificial barrier of blue, red, and blue (to Flavin Starbuck Judd). As in the previous work, the wall-to-wall structure obstructs the viewer's movement, reflecting Flavin's expanding engagement with the full space of a room. The dedication in the title is to Donald Judd's son (whose name attests to the close friendship between the two artists at this time). In 1970, a related, larger barrier with the same blue-and-red palette was installed on the top floor of Judd's home and studio on Spring Street in the city of New York.
Flavin's "corridors" also control and impede the movement of the viewer through gallery space. They take various forms: some are bisected by two back-to-back rows of abutted fixtures, a divider that may be approached from either side but not penetrated (the color of the lamps differs from one side to the other). The first such corridor, untitled (to Jan and Ron Greenberg), was constructed for a 1973 solo exhibition at the St. Louis Art Museum, and is dedicated to a local gallerist and his wife. It is green and yellow; a gap (the width of a single "missing" fixture) reveals the cast glow of the color from beyond the divide. In subsequent barred corridors, Flavin would introduce regular spacing between the individual fixtures, thereby increasing the visibility of the light and allowing the colors to mix.
Ted Mann
Free Guggenheim App
Download the app to explore the Guggenheim collection, plan your visit, watch videos, and more.
Send a personalized greeting today!
Guggenheim Books
Visit the Online Store to purchase exhibition catalogues, e-books, and more.