Collection Online
Browse By
Browse By Museum
Browse By Major Acquisition
Dan Flavin
b. 1933, Jamaica, New York; d. 1996, Riverhead, New York
Biography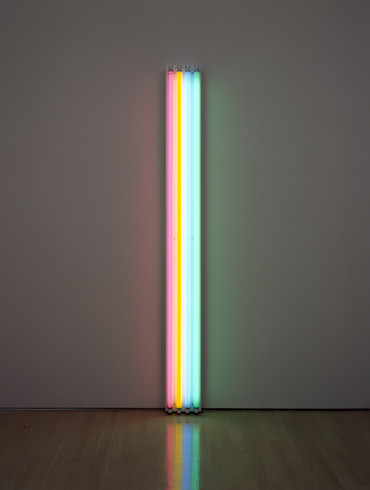 Parenthetical dedications to friends, family members, colleagues, and historical figures were often added by Dan Flavin to his otherwise untitled works. A number of these dedications are assigned to painters, which indicates that the artist wanted to position himself within a lineage of historical precursors. In the case of untitled (to Henri Matisse) (1964), it also reveals Flavin's ambivalent interest in the medium and practice of painting, to which his work—through color and light—retains a certain kinship (something that was noted even by early critics). This work, dedicated to the great 20th-century French colorist, is composed of a single fixture with four fluorescent lamps, set vertically against the wall. The spectrum of pink, yellow, blue, and green represents the four principle colors of commercial fluorescent light that Flavin deployed throughout his work. Sequenced in this way, the colors are arranged through simple modular repetition, a neutral approach to composition commonly associated with Minimalism. Yet fluorescent light also allowed Flavin to mix colors, making his work intensely optical: shown together, pink, yellow, blue, and green produce, surprisingly, a whitish glow.
Ted Mann
Free Guggenheim App
Download the app to explore the Guggenheim collection, plan your visit, watch videos, and more.
Send a personalized greeting today!
Guggenheim Books
Visit the Online Store to purchase exhibition catalogues, e-books, and more.