Collection Online
Browse By
Browse By Museum
Browse By Major Acquisition
Matthew Barney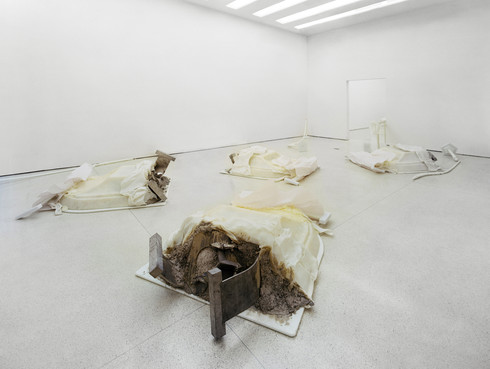 Barney's Chrysler Imperial (2002) encapsulates sequences from the final film of his five-part CREMASTER cycle (1994–2003), which summarizes the essential themes of this epic multimedia project. Each of the five main sculptural components, abstracted from cars competing in a demolition derby set in the lobby of the Chrysler Building around 1930, bears the insignia of a specific CREMASTER episode and embodies the conflicts explored in the film cycle. As an abridged version of the cycle, Chrysler Imperial exemplifies how Barney distills cinematic narrative into sculptural dimensions—using his signature Vaseline and cast plastics—to extrapolate in space what he explores in time. In the narrative sequence that generated Chrysler Imperial, Barney's character, a Masonic candidate who eventually cheats on his initiation rites, is seen troweling cement over the fuel-tank valves on the rear chassis of five 1967 Chrysler Crown Imperials, transforming them into battering rams. The '67 Imperials encircle a 1930 Chrysler Imperial New Yorker like hunters around an animal in a snare and proceed to pulverize their victim in what appears to be a ritual killing. Once crushed, the New Yorker is transformed into a set of chrome dentures, which are fitted in the mouth of the Masonic candidate after his teeth had been shattered on a railing as punishment for his trespasses. The sculpture that evolved from these filmic interludes is conceived in six major parts: five abstracted car forms representing the Imperials (and by extension the CREMASTER installments) and one plastic rod representing the pulverized New Yorker's transformation into disciplinary dentures.
—Nancy Spector
Free Guggenheim App
Download the app to explore the Guggenheim collection, plan your visit, watch videos, and more.
Send a personalized greeting today!
Guggenheim Books
Visit the Online Store to purchase exhibition catalogues, e-books, and more.