Collection Online
Browse By
Browse By Museum
Browse By Major Acquisition
Grace Hartigan
b. 1922, Newark, New Jersey; d. 2008, Baltimore, Maryland
Biography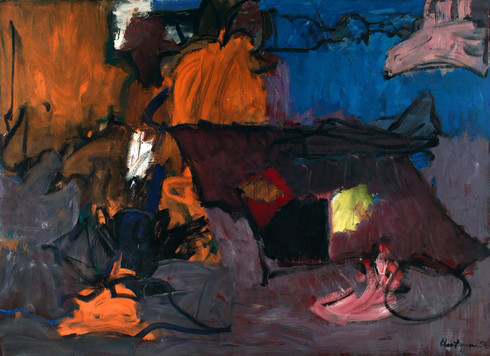 Grace Hartigan's paintings were included in The New American Painting, an exhibition organized by the Museum of Modern Art, New York, that traveled to eight European cities from 1958 to 1959, making her one of the few women painters to receive a level of exposure comparable to her counterparts in the Abstract Expressionist movement, like Willem de Kooning, Robert Motherwell, and Jackson Pollock. Hartigan, an artist of Irish descent, also visited Europe for the first time in 1958 and traveled extensively in Ireland. On her return to the United States, she painted a series of pictures with titles relating to her travels, of which Ireland (1958) is the largest. Though in no sense landscapes, or pictures with any literal subject matter, they constitute for the artist abstract evocations of place, and in that sense are deeply rooted in her experience of Ireland.
Free Guggenheim App
Download the app to explore the Guggenheim collection, plan your visit, watch videos, and more.
Send a personalized greeting today!
Guggenheim Books
Visit the Online Store to purchase exhibition catalogues, e-books, and more.