Collection Online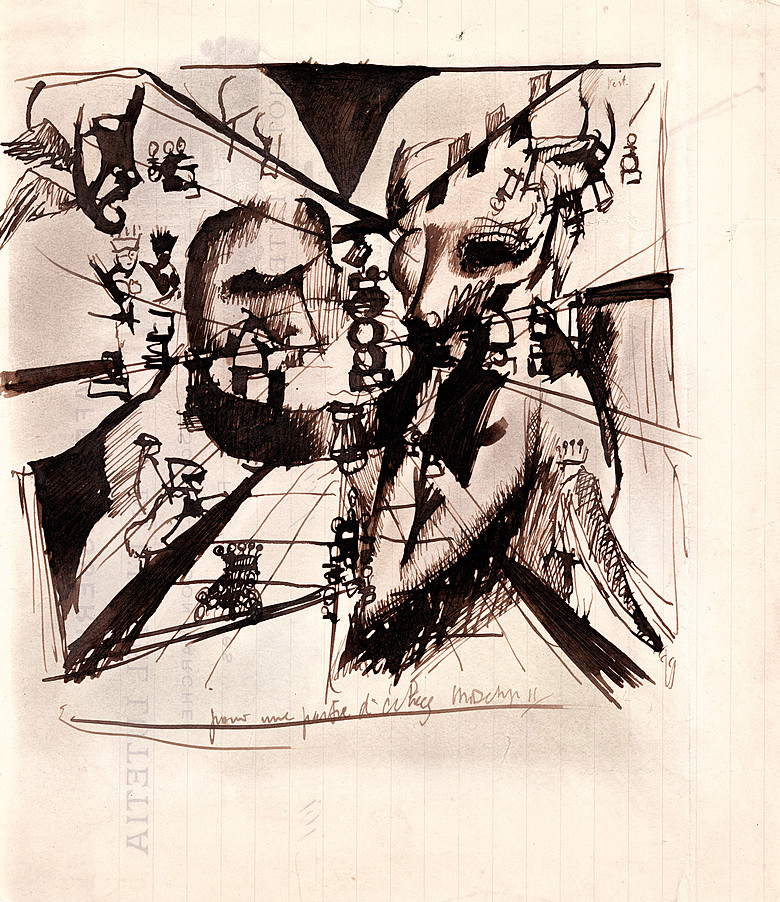 Marcel Duchamp
Study for "Portrait of Chess Players" (Étude pour une partie d'échecs)
Artist
Marcel Duchamp b. 1887, Blainville, France; d. 1968, Neuilly-sur-Seine, France
Title
Study for "Portrait of Chess Players" (Étude pour une partie d'échecs)
Date
Medium
Brown ink with watercolor wash on writing paper
Dimensions
8 3/8 x 7 1/4 inches (21.2 x 18.4 cm)
Credit Line
Solomon R. Guggenheim Museum, New York Gift, Estate of Katherine S. Dreier, 1953
Accession
53.1339
Copyright
2016 Artists Rights Society (ARS), New York/ADAGP, Paris/Succession Marcel Duchamp
Artwork Type
Movement
In 1911, Marcel Duchamp, the great iconoclast of 20th-century art, was still adhering to the conventions of easel painting, formal composition, narrative structure, and individual inspiration. His formative years were bracketed by studies at the Académie Julien in Paris in 1904–05 and participation in the artistic circle known as the Puteaux Group, which gathered at the home of his older brothers and fellow artists, Raymond Duchamp-Villon and Jacques Villon, after 1910. During this period, Duchamp moved rapidly through a succession of Modernist styles before renouncing painting altogether in 1913 in favor of an art that privileged the intellectual over the optical.
Prior to this conversion, which would radically alter the development of Western art, Duchamp frequently painted the members of his family. A relatively realistic canvas from 1910 depicts his brothers engrossed in a game of chess in their garden while his two sisters look on. The significantly more abstracted painting Sonata (1911), is a portrait of the artist's mother and sisters as a musical ensemble; their fragmented and interlocking bodies echoing Cubism's dissolution and rearrangement of forms in space. Apropos of Little Sister similarly fractures the integrity of the figure to reinforce its interrelationship with the surrounding composition. The sitter is Magdeleine, Duchamp's youngest sibling, who was 13 at the time. She is seated, reading a book by candlelight; her attenuated limbs and curving spine form a sinuous S-curve that reverberates in the loosely painted environment around her.
Toward the end of 1911, Duchamp returned to the theme of chess, creating a series of at least six drawings and two Cubist paintings of his brothers completely absorbed by the game. The Guggenheim drawing was produced late in the sequence, perhaps between the execution of the two canvases, given that its shades of green and tan watercolor relate to the palette of the latter painting. Rendered on lined stationery from Paris's Hotel Lutetia, the drawing is intimate in scale but dense with visual information. The profiles of the two players interlock above the perspectival game board; vectors radiating out from center represent the intense intellectual activity at play. Chess pieces float freely in this abstracted world, suggesting that the space depicted is a purely cerebral realm. For Duchamp, who would soon devote himself to playing chess exclusively and only intermittently producing conceptual work involving readymades, linguistic strategies, and mechanistic imagery, chess was the perfect art form in that it engaged one's "gray matter" rather than one's retina.
Nancy Spector