Collection Online
Browse By
Browse By Museum
Browse By Major Acquisition
Afro (Afro Basaldella)
b. 1912, Udine, Italy; d. 1976, Zurich
Biography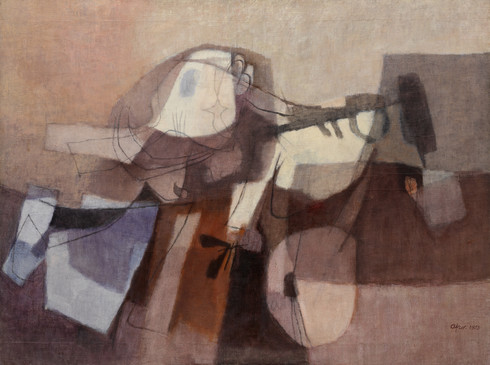 In 1952, Afro joined the Gruppo degli Otto Pittori Italiani (Group of the eight Italian painters), whose abstract-concrete leanings represented an alternative to the abstraction/realism polarization in Italian art. The group exhibited together at the 1952 Venice Biennale, but by 1954 Afro had distanced himself from the Otto—a move that coincided with the introduction of an increasingly dynamic gesture in his works. Afro's growing interest in Abstract Expressionism was amplified by his friendship with Willem de Kooning, who stayed in Afro's studio in Rome in winter 1959, and by his frequent visits to the United States in the 1950s for exhibitions of his work. For an Anniversary (Per una ricorrenza, 1955) especially demonstrates Afro's preoccupation with abstract geometric forms and his restraint in terms of color.
Free Guggenheim App
Download the app to explore the Guggenheim collection, plan your visit, watch videos, and more.
Send a personalized greeting today!
Guggenheim Books
Visit the Online Store to purchase exhibition catalogues, e-books, and more.