Collection Online
Browse By
Browse By Museum
Browse By Major Acquisition
Jean Dubuffet
b. 1901, Le Havre, France; d. 1985, Paris
Biography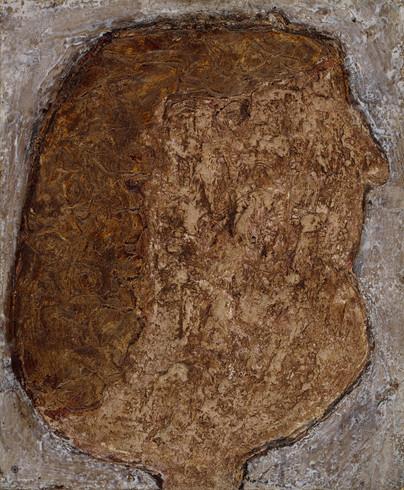 Jean Dubuffet was attracted to the surfaces of dilapidated walls, pitted roads, and the natural crusts of earth and rock, and during the 1940s and 1950s he sought to create an equivalent texture in his art. He experimented with a variety of materials to produce thick, ruggedly tactile surfaces that constitute deliberately awkward, vulgar, and abbreviated imagery, often of grotesque faces or female nudes. Dubuffet made the present work with an oil-based "mortar," applying it with a palette knife, allowing areas to dry partially, then scraping, gouging, raking, slicing, or wiping them before applying more medium. The resulting surface is so thick that incisions providing the contours and delineating features seem to model form in relief. He wrote that this mortar enabled him to "provoke systems of relief in objects where reliefs are least expected, and lent itself, at the same time, to very realistic effects of rugged and stony terrains. I enjoyed the idea that a single medium should have this double (ambiguous) power: to accentuate the actual and familiar character of certain elements (notably in figurations of ground and soils), and yet to precipitate other elements into a world of fantasmagoric irreality."
Dubuffet's aggressively anticultural, anti-aesthetic attitude and spontaneity of expression provided an example for members of the COBRA group in Europe, and New York artists such as Claes Oldenburg and Jim Dine.
Lucy Flint
Free Guggenheim App
Download the app to explore the Guggenheim collection, plan your visit, watch videos, and more.
Send a personalized greeting today!
Guggenheim Books
Visit the Online Store to purchase exhibition catalogues, e-books, and more.