Collection Online
Browse By
Browse By Museum
Browse By Major Acquisition
Joseph Beuys
b. 1921, Krefeld, Germany; d. 1986, Düsseldorf
Biography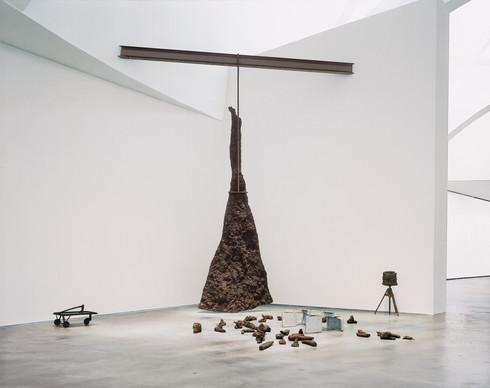 One of Joseph Beuys's most theatrical installations, Lightning with Stag in Its Glare (Blitzschlag mit Lichtschein auf Hirsch) (1958–85) articulates the German artist's obsession with primal and elemental forces: the earth, animals, excrement, and death. The arrangement of elements in this mysterious grouping suggests a natural site, like a forest clearing in which the stag (represented by an ironing board resting on wooden "legs"), the excremental forms of the "primordial animals" (actually made by plunging tools into piles of clay), and a goat (the hapless three-wheeled cart) are illuminated by a powerful lightning bolt (the weighty triangular form that hangs precariously from a beam). The artist is the human witness to this mythic, symbolic narrative (dominated, as always in Beuys's work, by animals), appearing obliquely in the form of the cast block of earth atop an old sculptor's modeling base. Completed in 1985 (the year of the artist's death), this important work was acquired by the Guggenheim Museum Bilbao in 2001 and re-presented in a new installation in February 2002.
Meghan Dailey
Free Guggenheim App
Download the app to explore the Guggenheim collection, plan your visit, watch videos, and more.
Send a personalized greeting today!
Guggenheim Books
Visit the Online Store to purchase exhibition catalogues, e-books, and more.