Collection Online
Browse By
Browse By Museum
Browse By Major Acquisition
Mark Napier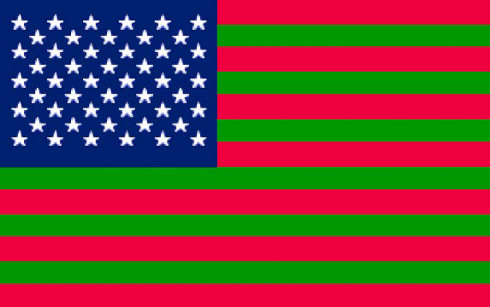 To view the Internet through one of Mark Napier's interfaces is to glimpse a landscape of unlimited visual possibilities. Napier's work is richer and more complex than the familiar print-inspired pages offered by corporate browsers like Netscape and Explorer. For example, Shredder (1998) chops up any Web page into slivers of text and image, de-emphasizing the public face of a site while foregrounding such fine print as button icons and JavaScript code that make the site function.
Napier has created net.flag, an emblem for the Internet as a new territory, one composed of people from various geographical regions and ideologies. Its design changes constantly, manipulated by users who make selections from menus of familiar flag motifs: stars, fields of color, bold patterns, insignia, and stripes. As viewers add their contributions to the palimpsest, the cumulative identity of the flag changes as one country's insignia or symbols temporarily overlap those of another. Expanding upon the model of nongeographic nationalities such as Roma, net.flag permits viewers to customize and save personal flags for their own virtual domains. Since each element of a flag generally represents a symbol chosen by that country's founders, net.flag also includes a "browse history" feature that permits access to the evolution of its net symbolic value—that is, the percentage of signs indicating "peace," "valor," or "blood" present in the flag at a given moment by its aggregate components.
In a world where global trade, facilitated by telecommunication and e-commerce, has blurred national borders, nationalism in general had seemed increasingly to be losing its relevance—until September 11, 2001. In the months following the attacks, nationalistic fervor increasingly gave way to the realization that isolated sovereignty was untenable in a global economy. What happens to an emblem of solitary statehood when that state's internal affairs become entangled with geopolitical commitments? How can the notion of a flag reflect the new reality rather than pining for a nostalgic sovereignty that no longer exists? net.flag is one answer to those questions.
Jon Ippolito
Free Guggenheim App
Download the app to explore the Guggenheim collection, plan your visit, watch videos, and more.
Send a personalized greeting today!
Guggenheim Books
Visit the Online Store to purchase exhibition catalogues, e-books, and more.