Collection Online
Browse By
Browse By Museum
Browse By Major Acquisition
Jim Dine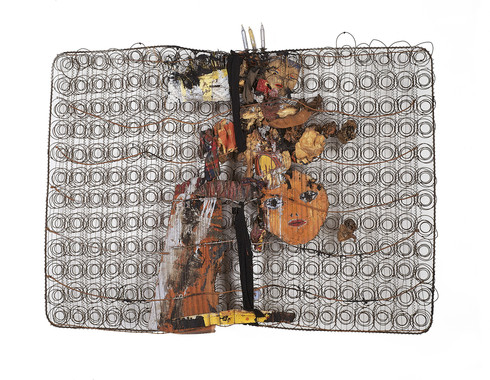 During the early 1960s Jim Dine was part of a loosely affiliated group of artists—including Red Grooms, Claes Oldenburg, and Lucas Samaras—who extended the gestural and subjective implications of Abstract Expressionist painting into outrageous performances, subsequently known as Happenings. Inspired by John Cage's radical approach to musical composition, which involved chance, indeterminacy, and an emphatic disregard for all artistic boundaries, they sought to transgress preexisting aesthetic values. Dine and Oldenburg brought this sensibility to bear on a two-artist exhibition called Ray-Gun, held at the Judson Gallery in New York in February and March 1960. For the show, each artist made an installation consisting of a chaotic configuration of found and manipulated objects. In Dine's jumbled environment, The House, the walls and ceiling of the gallery were effaced by an agglomeration of painted cloth, fragmented domestic objects, scrawled slogans, crumbled paper, and suspended metal bedsprings. Scattered throughout were cardboard signs spelling out various household platitudes, such as BREAKFAST IS READY and GO TO WORK. Dine claimed that the juxtaposition of these and other banal phrases with the surrounding domestic wreckage revealed the potential violence inherent to a home. His critique of the myth of the happy home was amplified by anthropomorphic references—painted eyes, faces, and other body parts—that were hidden or lost amid the detritus. This accretion of fragmented figures, discarded articles, and tattered elements is present, albeit in abbreviated form, in Dine's sculpture Bedspring, which may have been part of (or at least inspired by) The House.
A year later Dine began making paintings of discrete items—a hat, a necktie, and the necklace in Pearls, composed of rubber ball halves covered with metallic paint. Although often construed as Pop art emblems, these paintings, which include the names of the depicted objects and, in some cases, collage elements, are more conceptually oriented than the playful and bold appropriations of popular imagery made by Roy Lichtenstein, James Rosenquist, and Andy Warhol. By so blatantly and provocatively combining word, image, and object, Dine invited an investigation into the presumed difference between representation and reality, the construction of meaning, and the arbitrary nature of language.
Nancy Spector
Free Guggenheim App
Download the app to explore the Guggenheim collection, plan your visit, watch videos, and more.
Send a personalized greeting today!
Guggenheim Books
Visit the Online Store to purchase exhibition catalogues, e-books, and more.