Collection Online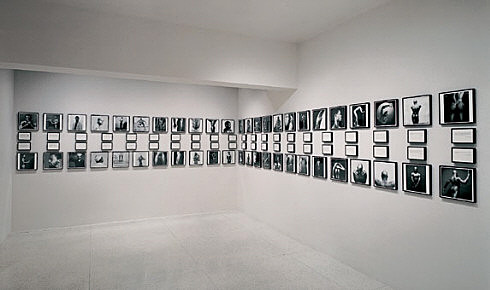 Glenn Ligon
Notes on the Margin of the Black Book
Artist
Glenn Ligon b. 1960, Bronx, New York
Title
Notes on the Margin of the Black Book
Date
Medium
Offset prints and text
Dimensions
91 offset prints, framed: 11 1/2 x 11 1/2 inches (27.9 x 28.6 cm) each; 78 text pages, framed: 5 1/4 x 7 1/4 inches (13.3 x 18.4 cm) each
Credit Line
Solomon R. Guggenheim Museum, New York Gift, The Bohen Foundation, 2001
Accession
2001.180
Copyright
Glenn Ligon. Photo: Ellen Labenski
Artwork Type
In his most well-known body of work, made in the early 1990s, Glenn Ligon painted door-sized canvases white and then stenciled across and down them black text appropriated from such influential authors as James Baldwin, Ralph Ellison, and Zora Neale Hurston. These phrases, such as "How it feels to be colored me"—not an emphatic statement, but an endlessly open question—are repeated until the stenciling blurs into illegibility. This and the removal of the text from its original literary context wonderfully complicate both language and meaning. Foregrounding race and sexuality, Ligon's work is primarily concerned with the construction of black identity as it is articulated through words and images.
In 1986, Robert Mapplethorpe published The Black Book, a selection of his many idealized and homoerotic nude photographs of black men. The book incited a range of responses, from appreciative identification to moral outrage, from distant ambivalence to personal embarrassment. Ligon, too, responded to the book, scrawling his reactions to each image on the pages of his copy. Realizing that he wanted to sort out the effect these images of black masculinity had on him as well as on others, he conceived of Notes on the Margin of the Black Book (1991–93). Maintaining Mapplethorpe's original order, Ligon installed framed pages from The Black Book along the wall in two rows, inserting between them small framed typed texts by diverse sources, including philosophers, activists, curators, historians, and religious evangelists. These seventy-odd texts, some written specifically about Mapplethorpe's images, others not, suggest a variety of interpretations while also foregrounding the various fears and fantasies projected onto these black male nudes, as the quote from Baldwin makes clear: "What one's imagination makes of other people is dictated, of course, by the laws of one's own personality and it is one of the ironies of black-white relations that, by means of what the white man imagines the black man to be, the black man is enabled to know who the white man is." In Notes, as in all of Ligon's work, sex, race, and desire cannot be disentangled, and questions are raised about the complex nature of the self and its relation to culture.
All Robert Mapplethorpe photographs © Estate of Robert Mapplethorpe. Used by permission. All rights reserved.