Collection Online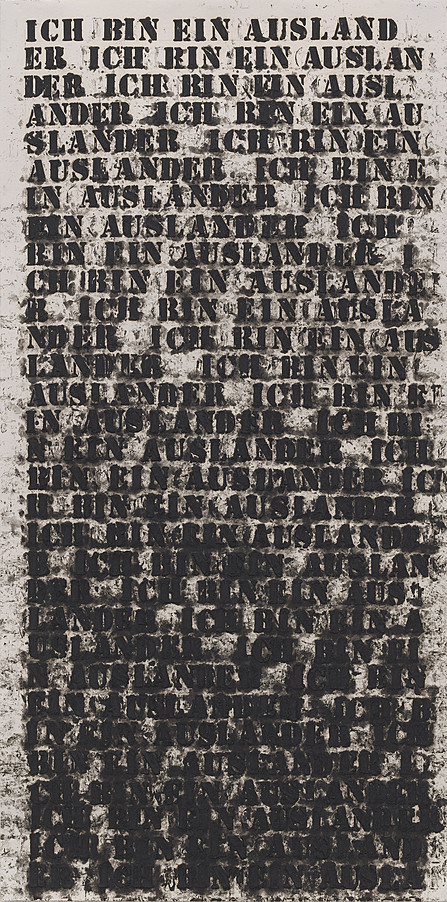 Glenn Ligon
Ich Bin Ein Auslander...
Artist
Glenn Ligon b. 1960, Bronx, New York
Title
Ich Bin Ein Auslander...
Date
Medium
Oil stick on paper
Dimensions
32 x 16 inches (81.3 x 40.6 cm)
Credit Line
Solomon R. Guggenheim Museum, New York Gift, The Bohen Foundation, 2001
Accession
2001.176
Copyright
Glenn Ligon
Artwork Type
Glenn Ligon explores questions of African American identity and queer sexuality in a variety of media. He is best known for his paintings incorporating texts by influential cultural figures ranging from writers James Baldwin, Zora Neale Hurston, and Jean Genet to comedian Richard Pryor. In works Ligon made for the seminal series Door Paintings (1990–92), the artist used black oil stick to stencil repeated phrases such as "I feel most colored when I am thrown against a sharp white background" and "I remember the very day that I became colored" (both from Hurston's 1928 essay, "How It Feels to Be Colored Me") on primed white wooden doors. As Ligon worked, he allowed the oil stick to clog the stencil and smudge across the painting's surface, causing the phrases to blur and become less decipherable as they progress to the bottom of the panel. By disturbing the legibility of the texts, Ligon slows and interrupts the process of reading, collapsing it into seeing. The relentless repetition of a single phrase, detached from its original context, encourages the viewer to continually reevaluate the possible meanings of the text until it becomes thick with implication. The act of "coloring" these doors, with their human scale and subtle allusions to opportunity, "passing," and passages, is analogous to the manner in which black bodies are inscribed with meaning within American society. In this sense, these initial works perform one implication of Hurston's text and question the ways in which bodies and images become legible within culture. Ligon later extended this technique to canvas and drew on quotes from activist Jesse Jackson, writer Ralph Ellison, and rapper Ice Cube, among others.
Ligon's Coloring series, begun in 2000, further explores themes of "becoming colored" and the legibility of black bodies, but focuses on images rather than text. In a series of workshops Ligon conducted at the Walker Art Center, Minneapolis, the artist asked young children to color pictures from 1970s-era coloring books featuring African American cultural figures, which had been created to foster knowledge of black history and pride in black culture among African American children. Ligon then used the children's work as source material for a series of paintings, screenprinting the coloring-book pages onto canvas and coloring them as in the children's drawings, although with paint and oil stick. The results are often jarring: deaf to the ideology of the images, the young workshop participants colored irreverently, giving Frederick Douglass blue eyes and adding lipstick, rouge, and eye shadow to a portrait of Malcolm X. Some illustrations are filled in carefully, while others are obliterated by dense scribbles. At once playful and disturbing, Ligon's paintings highlight the slippery nature of representation, and the apparent desecration of these cultural icons provokes an anxiety in the viewer that exposes the ideologically loaded process of reading an image. By highlighting this process, Ligon emphasizes the unsettling extent to which the meaning of an image is socially determined, and questions the ways in which we transmit our systems of meaning to future generations.
Liz Blackford