Collection Online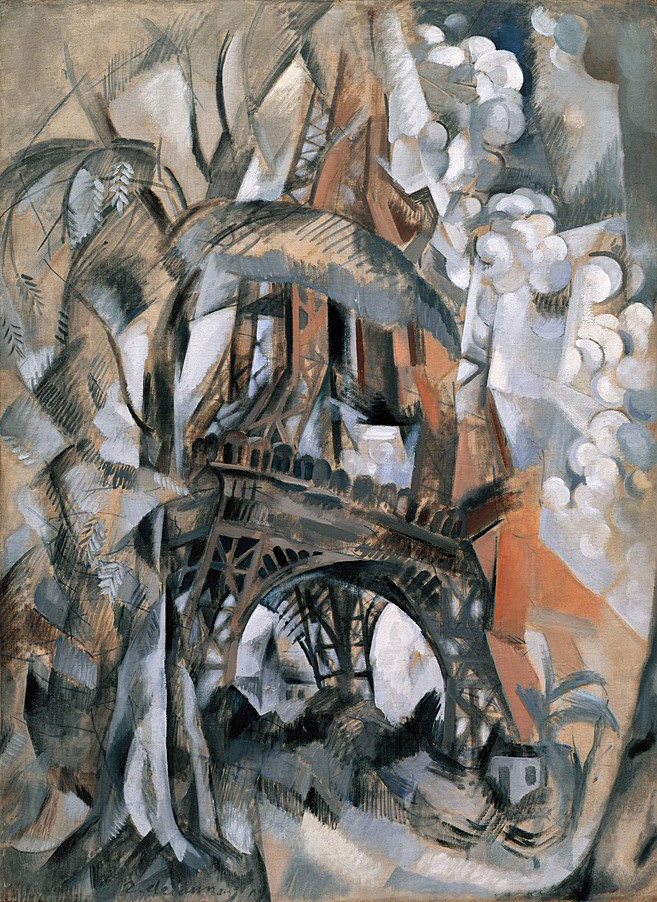 Robert Delaunay
Eiffel Tower with Trees (Tour Eiffel aux arbres)
Artist
Robert Delaunay b. 1885, Paris; d. 1941, Montpellier, France
Title
Eiffel Tower with Trees (Tour Eiffel aux arbres)
Date
Medium
Oil on canvas
Dimensions
49 3/4 x 36 1/2 inches (126.4 x 92.8 cm)
Credit Line
Solomon R. Guggenheim Museum, New York Solomon R. Guggenheim Founding Collection
Accession
46.1035
Artwork Type
Movement
As it was for many literary and artistic figures of the day, the Eiffel Tower became a symbol of modernity for Robert Delaunay. In its capacity as a radio tower, it embodied the international communication Delaunay envisioned breaking down boundaries and transforming Europe into a global community. He apparently first painted the tower in celebration of his engagement to Sonia Terk in 1909 and would make it the subject of at least thirty works over the next few years and again in the 1920s.
In their limited palette and simple blocklike forms, Delaunay's first treatments of the Eiffel Tower show the influence of Georges Braque and Paul Cézanne. The more dynamic representation of Eiffel Tower with Trees signals a shift in the artist's style. Delaunay showed the tower from several viewpoints at once, suggesting the movement of the eye through space and time and expressing a Simultanist vision. By introducing the element of time, the artist was able to synthesize several impressions of the tower, capturing the full perceptual experience that Delaunay believed was the key to inner awareness. It is significant that this painting was executed when he was away from Paris, working from memory.
Taking advantage of the vast space the tower inhabits, Delaunay retraced the motion of the eye as it follows the trajectory of the structure up to the sky and back down again. As the eye moves from the tree in the foreground to the distant tip of the tower, and follows the curved branch across the face of the building and travels down the column of clouds, the tower begins to swing back and forth between foreground and background, shifting between its position as an autonomous three-dimensional object and its part as an element of pattern in the picture surface as a whole.¹ These optical effects become even more apparent in Delaunay's later works from the Window series, which led him to a higher level of abstraction.
Eiffel Tower with Trees marks the beginning of Delaunay's "destructive" phase: the solid form in his earlier works becomes fragmented and begins to crumble, though, unlike the objects of the Cubists' investigations, the tower here still remains distinguishable from the surrounding space. This works shows the beginnings of the artist's use of light to permeate and fracture solid form, splintering his subject into a kaleidoscope of shattered elements. As Delaunay's study of the energy and immateriality of light became more intense, his works began to express more clearly the artist's belief that light is the essence of all being—"the only reality"—and our perception of it the path to harmony.
Susan Cross
1. See Virginia Spate's discussion of Delaunay in Orphism (Oxford: Clarendon Press, 1979), pp. 170–74.