Artist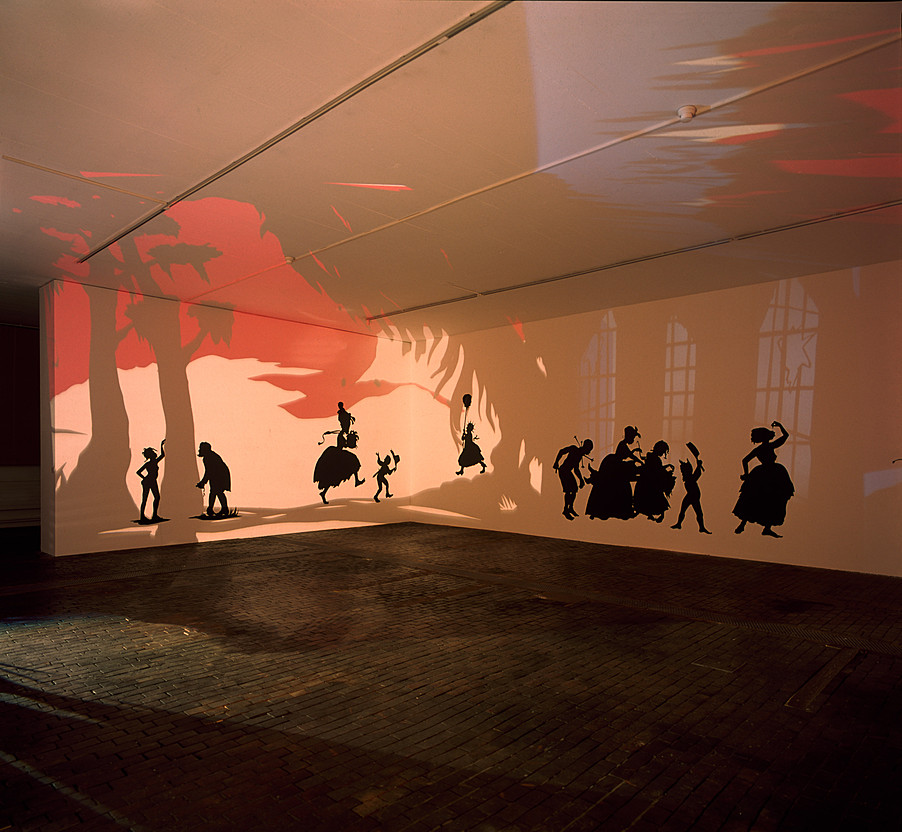 Kara Walker
Insurrection! (Our Tools Were Rudimentary, Yet We Pressed On)
Artist
Kara Walker b. 1969, Stockton, California
Title
Insurrection! (Our Tools Were Rudimentary, Yet We Pressed On)
Date
Medium
Cut-paper silhouettes and light projections
Dimensions
dimensions variable
Credit Line
Solomon R. Guggenheim Museum, New York Purchased with funds contributed by the International Director's Council and Executive Committee Members: Ann Ames, Edythe Broad, Henry Buhl, Elaine Terner Cooper, Dimitris Daskalopoulos, Harry David, Gail May Engelberg, Ronnie Heyman, Dakis Joannou, Cindy Johnson, Barbara Lane, Linda Macklowe, Peter Norton, Willem Peppler, Tonino Perna, Denise Rich, Simonetta Seragnoli, David Teiger, Ginny Williams, and Elliot K. Wolk, 2000
Accession
2000.68
Copyright
2000 Kara Walker. Photo: Ellen Labenski
Artwork Type
Kara Walker provocatively engages American slavery in nearly life-size silhouettes that hijack racial stereotypes and exaggerated physiognomies drawn from blackface entertainment. Amid nightmarish revivals of the antebellum South, hyperactive shadow forms expose and reverse a fundamental operation of minstrelsy: the projection of white audiences' illicit desires and irrational fears onto black bodies. Pushing derogatory caricatures to absurd limits, Walker overturns the diffusion of violence through comedy. Jokes are rerouted, punch lines go astray, and heroes and villains switch places. Walker herself inhabits these scenes as the Negress. Mischievously subverting any "straight" story, these theaters of horror thrive on the proximity between attraction and revulsion, drawing together love and hate, violence and tenderness, for a more complex approach to an unsettled historical problem.

Throughout Walker's work, field slaves, house slaves, white patriarchs, and Southern belles stud a multigenerational cast that cavorts in polyamorous unions tinged with sadomasochism, surrounded by plantation effluvia. Details are merely hinted by the outline of silhouettes, objects of antiquated craft used in portraiture, and the depiction of mundane domestic scenes. These genteel ciphers depend on the viewer's intimacy with the subject matter to fill the voids. In Walker's hands, static vignettes become hyperactive cinematic panoramas. The vagueness of the silhouette consistently undermines the process of identifying the images, teasing and exploiting visual stereotypes. A knowing smirk lingers on the face of the Negress in the suggestive blankness of cut paper, disrupting propriety and disturbing sensibilities in order to activate critical thought and social conscience.

In Insurrection! (Our Tools Were Rudimentary, Yet We Pressed On), Walker applied colored projections to her silhouette tableaux for the first time. The additional layer disallows passive voyeurism. As viewers step into the environment, their shadows join the sinister scene. Here a woman flees with a noose still hanging from her neck; there in the Big House, another woman's rag-wrapped head tilts over a body that she disembowels with a ladle; outside, another young girl straddles a gentleman whose head she lifts off effortlessly. Walker dissects conditions of desperation, subjugation, and the decadence of power, staging fantastical confrontations with the illogic of human bondage.