Artist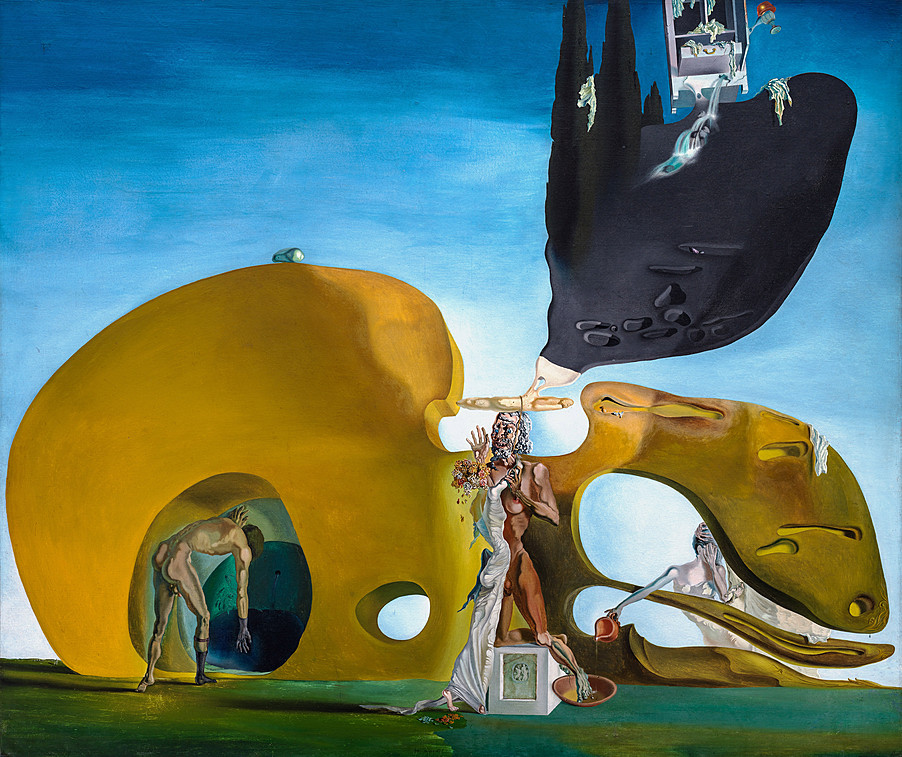 Salvador Dalí
Birth of Liquid Desires (La naissance des désirs liquides)
Artist
Salvador Dalí b. 1904, Figueras, Spain; d. 1989, Figueras, Spain
Title
Birth of Liquid Desires (La naissance des désirs liquides)
Date
Medium
Oil and collage on canvas
Dimensions
37 7/8 x 44 1/4 inches (96.1 x 112.3 cm)
Credit Line
The Solomon R. Guggenheim Foundation Peggy Guggenheim Collection, Venice, 1976
Accession
76.2553.100
Copyright
2016 Salvador Dalí, Gala-Salvador Dalí Foundation/Artists Rights Society (ARS), New York
Artwork Type
Movement
By the time Salvador Dalí joined the Surrealist group in 1929, he had formulated his "paranoid-critical" approach to art, which consisted in conveying his deepest psychological conflicts to the viewer in the hopes of eliciting an empathetic response. He embodied this theoretical approach in a fastidiously detailed painting style. One of his hallucinatory obsessions was the legend of William Tell, which represented for him the archetypal theme of paternal assault.¹ The subject occurs frequently in his paintings from 1929, when he entered into a liaison with Gala Eluard, his future wife, against his father's wishes. Dalí felt an acute sense of rejection during the early 1930s because of his father's attitude toward him.
Here father, son, and perhaps mother seem to be fused in the grotesque dream-image of the hermaphroditic creature at center. William Tell's apple is replaced by a loaf of bread, with attendant castration symbolism. (Elsewhere Dalí uses a lamb chop to suggest his father's cannibalistic impulses.) Out of the bread arises a lugubrious cloud vision inspired by the imagery of Arnold Böcklin. In one of the recesses of this cloud is an enigmatic inscription in French: "Consigne: gâcher l'ardoise totale?"
Reference to the remote past seems to be made in the two forlorn figures shown in the distant left background, which may convey Dalí's memory of the fond communion of father and child. The infinite expanse of landscape recalls Yves Tanguy's work of the 1920s. The biomorphic structure dominating the composition suggests at once a violin, the weathered rock formations of Port Lligat on the eastern coast of Spain, the architecture of the Catalan visionary Antoni Gaudí, the sculpture of Jean Arp, a prehistoric monster, and an artist's palette. The form has an antecedent in Dalí's own work in the gigantic vision of his mother in The Enigma of Desire of 1929. The repressed, guilty desire of the central figure is indicated by its attitude of both protestation and arousal toward the forbidden flower-headed woman (presumably Gala). The shadow darkening the scene is cast by an object outside the picture and may represent the father's threatening presence, or a more general prescience of doom, the advance of age, or the extinction of life.
Lucy Flint