Artist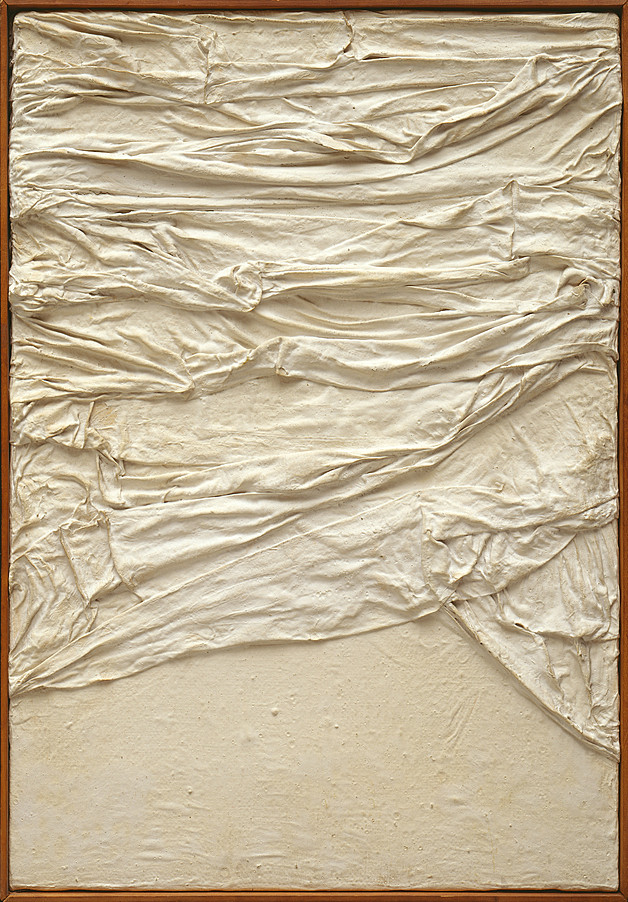 Piero Manzoni
Achrome
Artist
Piero Manzoni b. 1933, Soncino, Italy; d. 1963, Milan
Title
Achrome
Date
Medium
Fabric and gesso on canvas
Dimensions
70.5 x 50.2 cm
Credit Line
Solomon R. Guggenheim Museum, New York Gift, Andrew Powie Fuller and Geraldine Spreckels Fuller Collection, 1999
Accession
2001.14
Copyright
2016 Artists Rights Society (ARS), New York / SIAE, Rome
In his brief career, cut short by his untimely death at the age of 30, Piero Manzoni produced a diverse body of work ranging from white, monochromatic paintings known as Achromes, to tubes containing paper marked only with a line, cans of his own excrement, and human bodies signed by the artist in order to indicate their status as art. Importantly, Manzoni helped to bring together like-minded artists working throughout Europe in the late 1950s and early 1960s via his travels, exhibitions—including those at the short-lived Galleria Azimut in Milan, which he cofounded with the Italian artist Enrico Castellani—and his magnetic personality. Through such vehicles as his and Castellani's journal Azimuth (two issues, 1959–60), Manzoni led a charge to reject Art Informel's subjectivity and emphasis on gesture, and to develop instead a "New Artistic Conception" that stressed the purity and simplicity of the artistic act.
In 1956 Manzoni's work consisted of blotlike representations of anthropomorphic, totemic figures and paintings covered in tar and imprinted with everyday objects such as buttons and keys dipped in paint. His emphasis on facture and the method of automatism reflected formal affinities with Art Informel artists such as Alberto Burri. Manzoni's visit to Yves Klein's 1957 show at the Galleria Apollinaire in Milan, Proposte monochrome, epoca blu (Monochrome proposition, blue period)—a display of 11 virtually identical monochrome blue paintings—had a major impact on the direction of his art, as these pictures suggested the potential for creating work that was tautological and self-enclosed, not merely a record of the existential outpouring of the artist.
Subsequent to his encounter with Klein's work, Manzoni began a series of all-white works that he called Achromes. He did not conceive them as white paintings but rather as acts of negation—blank, neutral surfaces stripped of all representation, metaphor, and allusion. After briefly experimenting with scratched and marked gesso surfaces, he developed a novel process of dipping canvas in liquid kaolin (white china clay) and allowing it to dry in wrinkled formations. Works such as Achrome (1958–59) exemplify this technique that allowed Manzoni to eliminate brushstrokes altogether and thereby to remove his personal imprint from the object. The fact that the work was completed through the drying process—in which the artist had no direct role—greatly appealed to him.
In later works in the series, Manzoni would adopt other materials, including stitched squares of canvas, cotton, bread rolls dipped in kaolin, and fiberglass. Despite his use of such everyday materials, he aspired to an art freed of external references.