Artist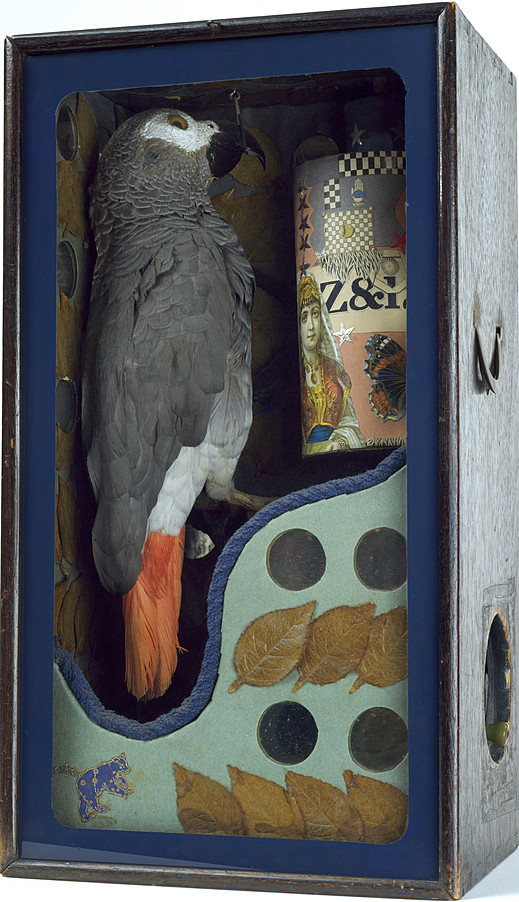 Joseph Cornell
Fortune Telling Parrot (Parrot Music Box)
Artist
Joseph Cornell b. 1903, Nyack, New York; d. 1972, New York City
Title
Fortune Telling Parrot (Parrot Music Box)
Date
Medium
Box construction
Dimensions
16 1/16 x 8 3/4 x 6 11/16 inches (40.8 x 22.2 x 17 cm)
Credit Line
The Solomon R. Guggenheim Foundation Peggy Guggenheim Collection, Venice, 1976
Accession
76.2553.126
Copyright
Art The Joseph and Robert Cornell Memorial Foundation/Licensed by VAGA, New York, NY. Photo: David Heald
Artwork Type
Movement
Joseph Cornell lived an isolated life with his mother at their home in Flushing, New York, from which he made frequent excursions into Manhattan to gather objects for his constructions. His diaries record his alternating feelings of being trapped at home, and then of release when he escaped to Manhattan. Working on his boxes at home in his cellar became a substitute for traveling, the arrangement of imaginary souvenirs inducing the excitement of voyages.
Fortune Telling Parrot offers many associations with exotic travels. First, the box construction itself resembles the apparatus of a hurdy-gurdy, invoking the bohemian world of the traveling gypsy musician. The crank on the right exterior of the construction turns a broken music box, hidden in the lower-right corner of the sculpture. The music box in turn is attached by a thin rod to the cylinder above it, which is intended to revolve while music plays.
The cylinder is covered with decorations, some of which suggest the paraphernalia and practices of the fortune-teller: playing cards such as the King of Hearts and the Jack of Clubs; the numbers one through nine; a picture of two hands playing cat's cradle, recalling the entertainments of the gypsy; and the picture of a gypsy woman in elaborate costume. Small stars on the cylinder and a map of the constellation of Ursa Minor, "Little Bear," in the lower-left corner of the box, also allude to astrology and divination. The parrot itself is a common attribute of the itinerant fortune-teller. Facing the revolving canister, this bird assumes the role of a soothsayer's assistant. Exotic birds, including parrots, parakeets, and cockatoos, appear in some eighteen boxes by Cornell, the present example being the earliest and the others dating from the forties and fifties. In other boxes, birds are caged and chained on their perches, captured as exotic pets. Cornell recalls in his diary some of the experiences that contributed to his obsession with parrots: "magic windows of yesterday . . . pet shop windows splashed with white tropical plumage / the kind of revelation symptomatic of city wanderings in another era. . . . scintillating songs of Rossini and Bellini and the whole golden age of the bel canto . . . indelible childhood memory of an old German woman a neighbor's pet parrot may have added to the obsession of these . . . feathered friends."¹
Elizabeth C. Childs
1. Quoted in D. Ades, "The Transcendental Surrealism of Joseph Cornell," in Joseph Cornell, exh. cat., New York, 1980, p. 37.