Artist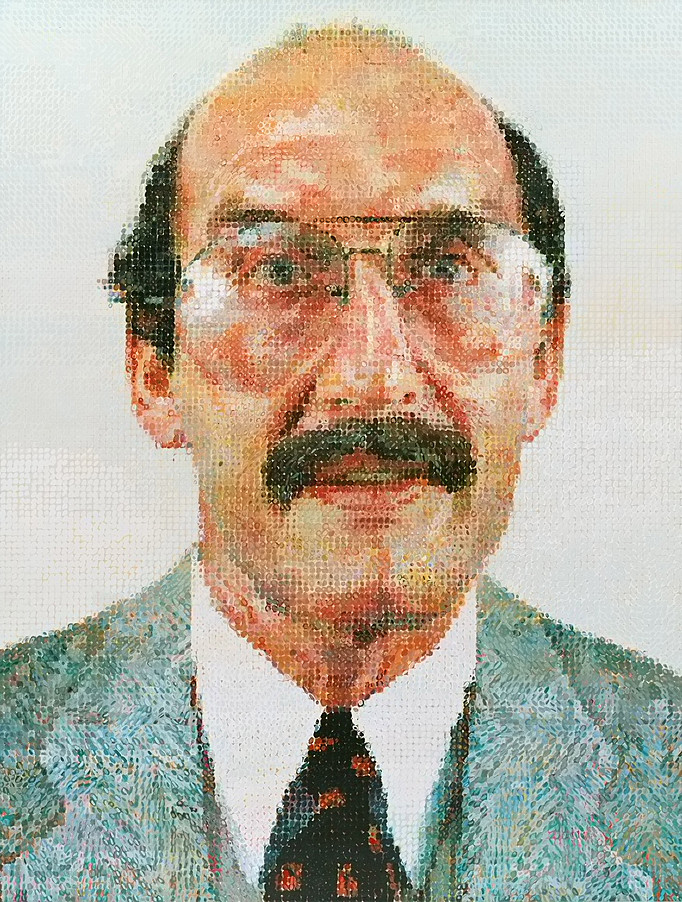 Chuck Close
Stanley II
Artist
Chuck Close b. 1940, Monroe, Washington
Title
Stanley II
Date
Medium
Oil on canvas
Dimensions
108 x 84 inches (274.3 x 213.4 cm)
Credit Line
Solomon R. Guggenheim Museum, New York Purchased with funds contributed by Mr. and Mrs. Barrie M. Damson, 1981
Accession
81.2839
Copyright
Chuck Close, courtesy The Pace Gallery, New York
Artwork Type
Movement
In the late 1960s, Chuck Close transformed a photograph of himself into a monumental black-and-white painting. Working for months, he drew a grid over the photo and transferred that compositional structure to a canvas, systematically focusing on the individual parts that make up a whole far exceeding the scale of the original image. Close wanted a picture that could not be taken in all at once, but rather had to be viewed in sections. He also aimed to capture how the camera sees by including both blurry and highly detailed areas. To create an impersonal surface lacking traces of the artist's hand, he applied a small amount of acrylic paint to a gessoed surface and used such tools as an airbrush, razor blades, and electric drills.
In later portraits, he painted family members and friends, anonymous subjects (although many later became famous) except for their first names, which served as titles. In order to distinguish his approach from traditional portraiture, Close referred to these passportlike images as "heads" and focused on each face's topographic qualities that sometimes included unflattering details. His use of mechanical reproduction (the camera) and the grid reflected an affinity with Minimalism. Yet, the machine is not the maker; rather, he used it as a tool for realizing hand-painted pictures.
By the early 1970s, Close began making color portraits, developing a layering technique inspired by photo-mechanical reproductions and experimenting with colored pencil, pastel, and watercolor. In 1980–81, he made his first large portrait in oil paint, a medium he had not used since 1966. He made two versions of this painting, Stanley (Large Version), the one in the Guggenheim's collection and a smaller version. The subject of this picture is Stanley Rosen, a salesman whom Close met at the beach where the two men's children were playing together. First shown in Close Portraits (1981) at the Whitney Museum of American Art, it garnered critical interest because of its rich dialogue between abstraction and representation. In contrast to his earlier works' smooth surfaces, Stanley (Large Version) consists of a network of colored dots rendered in a fluid, painterly manner. The abstract patterning in the grid's squares recalls the mosaic-like technique of Gustav Klimt, whose work the artist studied while in Vienna on a Fulbright fellowship in the mid-1960s. Close's turn to a more articulated treatment of the surface hearkened back to his early interest in Abstract Expressionism, and coincided with many other artists' decision to work in an expressionist painting style. However, Close did not allow emotion and spontaneity to govern his practice. Instead, he continued to use photography as a departure point and follow systematic rules, combining regimentation and freedom in the same work.
Valerie Hillings