Artist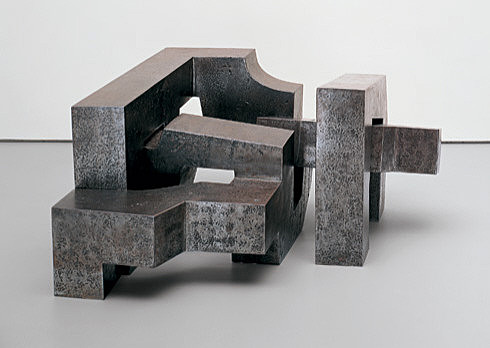 Eduardo Chillida
Three Irons
Artist
Eduardo Chillida b. 1924, San Sebastián, Spain; d. 2002, San Sebastián, Spain
Title
Three Irons
Date
Medium
Steel
Dimensions
22 3/4 x 38 1/4 x 42 inches (57.8 x 97.2 x 106.7 cm); 2505.1 lb. (1136.3 kg)
Credit Line
Solomon R. Guggenheim Museum, New York Gift, The Merrill G. and Emita E. Hastings Foundation, Elizabeth Hastings Peterfreund, Trustee, in honor of Thomas M. Messer, 1985
Accession
85.3257
Copyright
2016 Artists Rights Society (ARS), New York / VEGAP, Madrid
Artwork Type
Prior to the 20th century, artists did not work directly in metal as a sculptural medium. Rather, they carved plaster and molded clay originals that were subsequently cast at a foundry by expert craftsmen. Thus, the sculpture of Eduardo Chillida, comprised of abstract forms created through pounding and bending steel, represents a quintessentially modern approach. Chillida considers his materials not as a vehicle for representation but as an inherent part of the work's total conception and form. His way of working is characteristic of his native region, but it also has roots in the art of Julio González, who is generally regarded as having made the initial breakthrough to direct metal sculpture in the late 1920s.
Executed with a heroic sense of scale and a tremendous sensitivity for mass, space, and materials, Chillida's abstract sculpture is well in keeping with the tachiste sensibility of late 1940s and 1950s art. Accentuating the work's physical properties, the surface of Three Irons (Iru Burni, 1966) is raw and pitted by acid. As the viewer considers the work from various angles, the interrelationships of the interlocking steel limbs in space seem to change. Chillida's interest in volumetric forms may stem, in part, from his early training in architecture. His first welded metal sculptures were relatively delicate and in keeping with a Cubist language of linear forms. But he soon developed a technique that seems to reference the Spanish tradition of forged ironwork, which had been particularly strong in the Basque provinces and Catalonia.
During the 1960s, Chillida heightened the scale of his works and executed a series of public commissions. This experience of working monumentally informs his works in all scales, so that even the relatively small Three Irons possesses a majestic sense of structure.
Ingrid Schaffner