Artist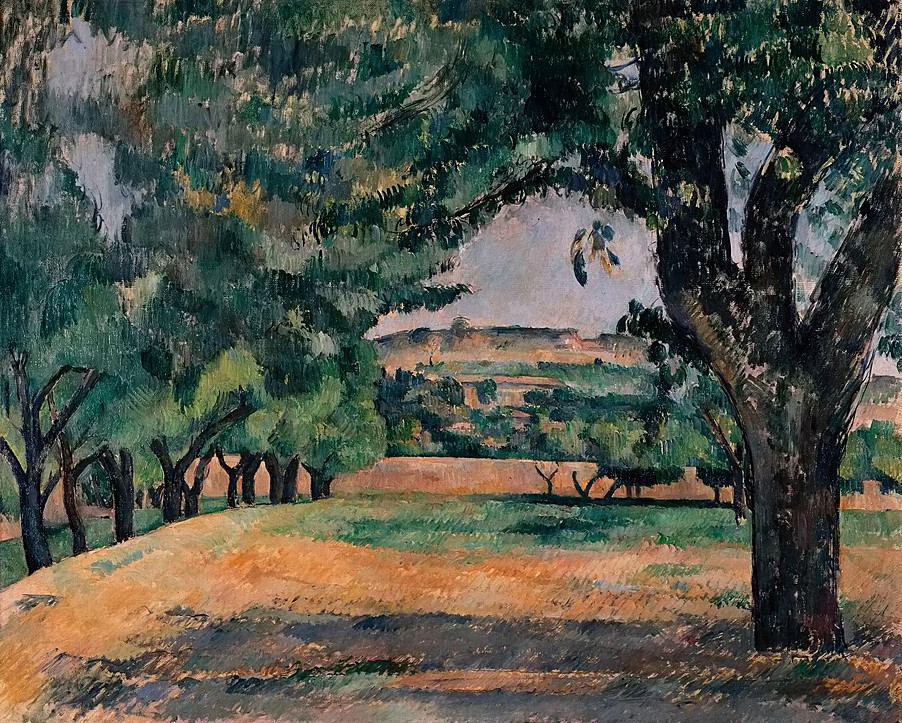 Paul Cézanne
The Neighborhood of Jas de Bouffan (Environs du Jas de Bouffan)
Artist
Paul Cézanne b. 1839, Aix-en-Provence, France; d. 1906, Aix-en-Provence
Title
The Neighborhood of Jas de Bouffan (Environs du Jas de Bouffan)
Date
Medium
Oil on canvas
Dimensions
25 9/16 x 31 7/8 inches (65 x 81 cm)
Credit Line
Solomon R. Guggenheim Museum, New York Thannhauser Collection, Bequest, Hilde Thannhauser, 1991
Accession
91.3907
Artwork Type
Movement
On View in
In September 1859 Paul Cézanne's father bought a large country house and farm, called the Jas de Bouffan, just outside Aix-en-Provence. For the next forty years, this estate, which included a large 18th-century house, alleys of chestnut trees, and views of Mont Sainte-Victoire (another of the artist's favorite sites), afforded Cézanne with many of his subjects. No fewer than thirty-seven oils and sixteen watercolors of the Jas de Bouffan and its immediate environment have been catalogued, but it was only in the mid- and late 1880s that Cézanne explored the varied motifs offered by the manor and its grounds in real depth, as in paintings such as The Neighborhood of Jas de Bouffan. The work has a traditional design, with a large foreground tree at one side and a clump of smaller trees at the other framing a distant view in the center; but in Cézanne's scrupulous adaptation, it becomes an image of a particular place beyond the walls of his family estate, seen in the warm light of Provence on a cloudless summer day.
Both the sense of order and the sense of isolation that emanate from this balanced yet uninhabited landscape convey what must have been the artist's dominant mood in the summer of 1887 or 1888—calm but resigned, with his frustrated affair of 1885 as well as his loveless marriage, the death of his domineering father, and his break with his boyhood friend Emile Zola in 1886 all now behind him. He summed up this mood of resignation, coupled with a deep immersion in nature, in a letter to the collector Victor Chocquet written in May 1886: "I should have wished to possess the intellectual equilibrium that characterizes you. . . . Fate has not endowed me with an equal stability, that is the only regret I have about the things of this earth. As for the rest, I have nothing to complain about. Always the sky, the boundless things of nature, attract me and give me the chance to look with pleasure." And continuing in a vein that seems still more appropriate to The Neighborhood of Jas de Bouffan, he adopted an allegorical style: "I had a few vineyards, but unexpected frosts came and cut the thread of hope. And my wish would have been, on the contrary, to see them grow well; and so I can only wish you success for your plantations and a good development of your vegetation; green being one of the gayest colors which does the most good to the eyes." ¹
That Cézanne too could achieve such a development, if not in life, at least in art, is evident from The Neighborhood of Jas de Bouffan, in which the vibrant color harmony is dominated by a rich variety of greens, modulating in one sense toward yellow and ocher, in the other toward blue and violet, in a manner at once descriptive and abstract that does indeed do "the most good to the eyes."
T.R.
1. Paul Cézanne, Paul Cézanne: Letters, ed. John Rewald, trans. Marguerite Kay, 4th rev. ed. (New York: Hacker Art Books, 1976), pp. 224–25.