Artist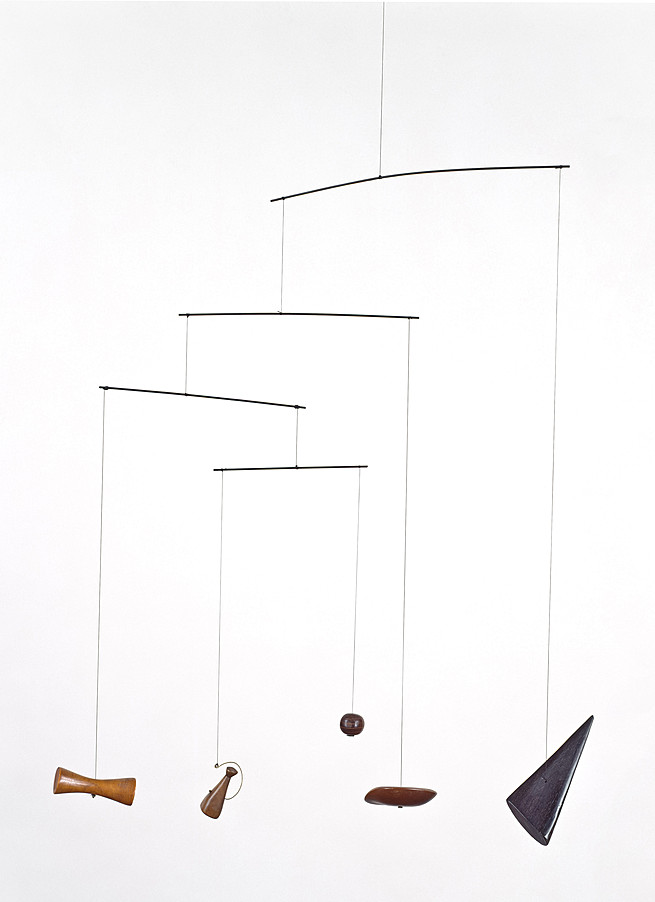 Alexander Calder
Untitled
Artist
Alexander Calder b. 1898, Lawnton, Pennsylvania; d. 1976, New York City
Title
Untitled
Date
Medium
Wood, metal rods, and cord
Dimensions
39 x 36 inches (99 x 91.5 cm)
Credit Line
Solomon R. Guggenheim Museum, New York Collection Mary Reynolds, Gift of her brother, 1954
Accession
54.1392
Copyright
2016 Calder Foundation, New York / Artists Rights Society (ARS), New York. Photo: David Heald © SRGF
Artwork Type
Movement
The kinetic potential of art was of primary interest to Alexander Calder throughout his career: "Why must art be static? You look at an abstraction, sculptured or painted, an entirely exciting arrangement of planes, spheres, nuclei, entirely without meaning. It would be perfect but it is always still. The next step in sculpture is motion."¹ Employing the language of abstraction, Calder captured movement through a range of structures—including mobiles, stabiles, constellations, towers, and gongs—that offered radical alternatives to the prevailing notions of sculpture and had a profound impact on the history of 20th-century art.
While the extraordinary breadth of Calder's production makes it impossible to characterize his work according to any particular style or technique, he is perhaps best known as the inventor of the mobile. Calder's first mobiles, kinetic works propelled only by air circulating its balanced components, date from the early 1930s, when he lived in Paris. It was Marcel Duchamp who devised the term for these suspended sculptures; as Calder recalled, "I asked him what sort of a name I could give these things and he at once produced 'mobile.' In addition to something that moves, in French it also means motive."
Calder, a fastidious craftsman, cut, bent, punctured, and twisted his materials entirely by hand, the manual emphasis contributing to the sculptures' evocation of natural form. Shape, size, color, space, and movement combine and recombine in shifting, balanced relationships that provide a visual equivalent to the harmonious but unpredictable activity of nature. In Untitled (ca. 1934), simple wooden shapes—most of them unpainted—are suspended from metal rods. Responding to air currents, the mobile's ever shifting profile moves spontaneously and unpredictably, different elements traveling in different directions at varying rates of speed. Along with a second wood mobile in the Guggenheim Museum's collection, this work was previously owned by renowned collector of Surrealist art Mary Reynolds.
Lucy Flint
1. Alexander Calder, "Objects to Art Being Static, So He Keeps It in Motion," New York World-Telegram, June 11, 1932.
2. Alexander Calder, Calder: An Autobiography with Pictures (New York: Pantheon Books, 1966), p. 127.