Artist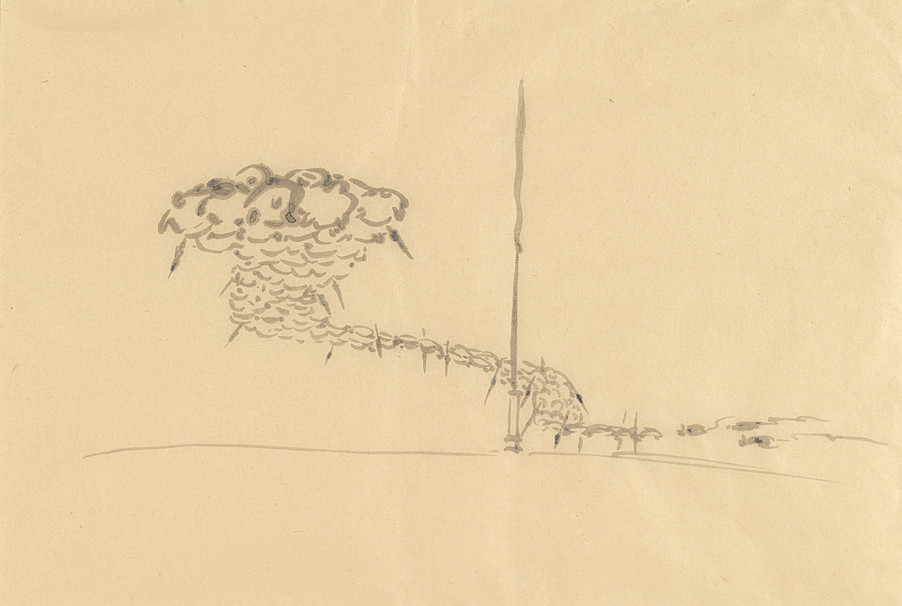 Cai Guo-Qiang
Study for "Cry Dragon/Cry Wolf: The Ark of Genghis Khan"
Artist
Cai Guo-Qiang b. 1957, Quanzhou, China
Title
Study for "Cry Dragon/Cry Wolf: The Ark of Genghis Khan"
Date
Medium
Ink on paper
Dimensions
13 1/8 x 19 inches (33.1 x 48.3 cm)
Credit Line
Solomon R. Guggenheim Museum, New York Gift, Hong Hong Wu, 1997
Accession
97.4524.1
Copyright
Cai Guo-Qiang
Artwork Type
A means to visualize ideas for installations and site-specific explosion projects, drawings are a vital component of Cai Guo-Qiang's art-making process. Known for his use of fireworks in performances and installations, Cai often detonates gunpowder on paper to sketch the final explosion's form. An early work that served as a physical blueprint for a series of explosions, Primeval Fireball: The Project for Projects (1991) comprises the smoky residue of exploded gunpowder spread over seven large folding screens. The explosion traces—surrounded by the artist's sketches, notes, and inscriptions—and the centripetal installation of the screens themselves create a three-dimensional representation of the previously sketched pattern of bursts and diagonals that Cai's fireworks followed over the course of the detonation. The artist has likewise integrated conventional ink drawing with gunpowder as studies for a number of major projects, including Project to Extend the Great Wall of China by 10,000 Meters: Project for Extraterrestrials No.10 (1993); Man, Eagle and Eye in the Sky (2003); and Clear Sky Black Cloud (2006).
Cai produced a group of six ink-on-paper studies for Cry Dragon/Cry Wolf: The Ark of Genghis Khan, which was first realized at the Guggenheim Museum SoHo in 1996. Comparatively simple, these drawings schematize the forms and components of the installation, which consists of 108 sheepskin bags suspended from the ceiling, affixed to a frame made of branches, and arranged in the form of a dragon, culminating in three running Toyota engines at the tail. Exemplifying Cai's use of allegory to consider larger issues, the allusions to Genghis Khan's reputation as a skillful warrior and conqueror of Eurasia alongside Aesop's fable "The Boy Who Cried Wolf" together address Western fears of Asian dominance. The continent's expansion in economic power is pointedly, and humorously, emphasized through symbolically loaded materials like the sheepskin bags that Genghis Khan's conquering armies used as water storage and makeshift rafts as well as the engines that connote Japan's undeniably successful auto industry. The importance of the material can be seen in the installation itself; the drawings instead capture Cai's close consideration of form. The distinctive curve of the suspended bags is explored in ink, simultaneously examining their profiles and accumulated mass, at times in relation to human scale and sketched signifiers of the natural world such as trees. Flanked by notes and inscriptions, specific details are subsumed by the abstract drawings, which coalesce into recognizable ruminations and projections of the resulting installation.