Artist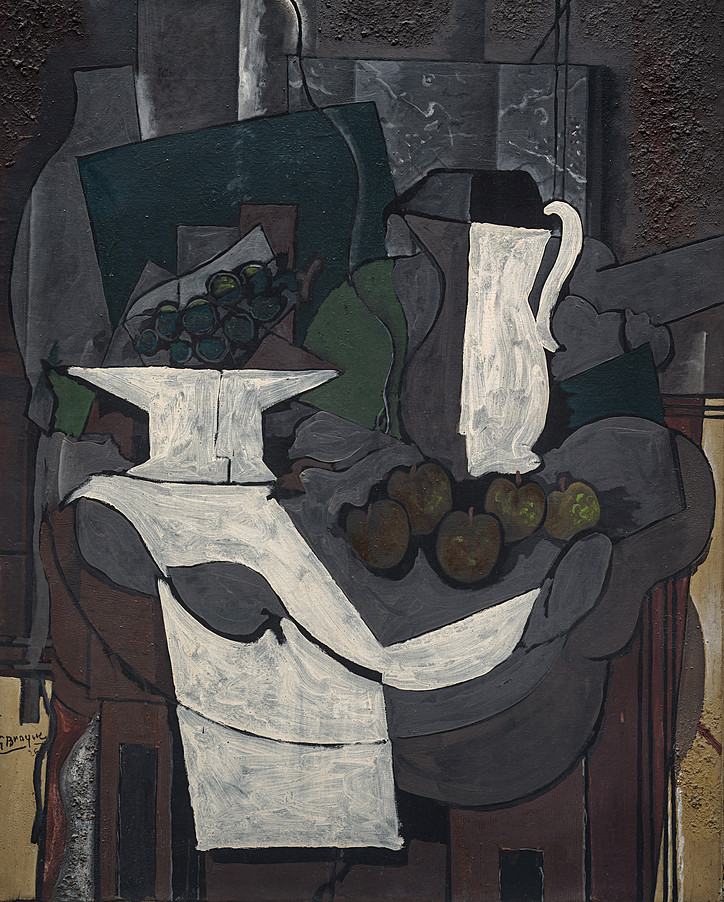 Georges Braque
The Bowl of Grapes (Le compotier de raisin)
Artist
Georges Braque b. 1882, Argenteuil-sur-Seine, France; d. 1963, Paris
Title
The Bowl of Grapes (Le compotier de raisin)
Date
Medium
Oil with pebbles and sand on fine linen canvas
Dimensions
39 3/8 x 31 1/4 inches (100 x 80.8 cm)
Credit Line
The Solomon R. Guggenheim Foundation Peggy Guggenheim Collection, Venice, 1976
Accession
76.2553.8
Copyright
2016 Artists Rights Society (ARS), New York/ADAGP, Paris
Artwork Type
Movement
After his return from military service in 1917 Georges Braque, working independently of Pablo Picasso, developed the subjects and style of his prewar period. His use of collage in the 1910s provided formal innovations in paintings of the twenties. In still lifes such as the present example, he constructed objects with broad, frontal planes that remain discrete and are often vividly colored or decoratively patterned.
In subject matter, The Bowl of Grapes belongs to Braque's gueridon (round pedestal table) and mantelpiece series of about 1918 to 1929. It displays a rigorous and complex organization of shape and line combined with the sensuous appeal of rich color (three greens contrasted with chalky white and tan) and a masterful handling of paint. The structuring grid is softened by broad curves and clusters of circular forms, and in peripheral areas enriched by the textural variation provided by the addition of sand to pigment.
Formal rather than illusionistic needs govern the treatment of objects. The white drapery does not cascade down from the tabletop in foreshortened, shadowed folds, but rigidly asserts itself parallel to the picture plane. The distinction between lit and shadowed sides of the pitcher is artificially sharp. Reminiscent of Paul Cézanne's still lifes are the heavy contours and voluminous presence of the objects, the tilted planes, inconsistent perspective, and discontinuous background lines.
Lucy Flint