Artist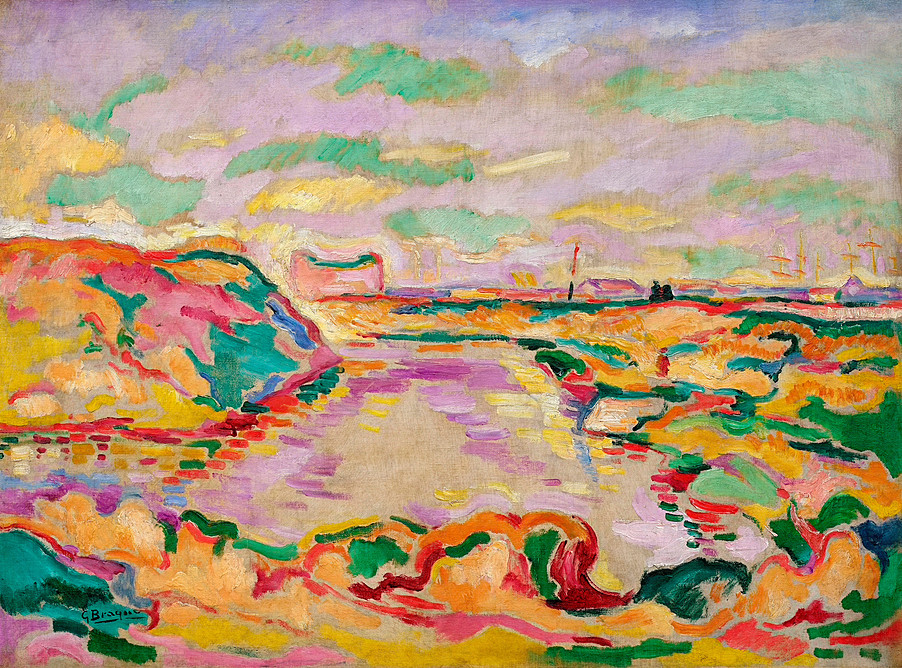 Georges Braque
Landscape near Antwerp (Paysage près d'Anvers)
Artist
Georges Braque b. 1882, Argenteuil-sur-Seine, France; d. 1963, Paris
Title
Landscape near Antwerp (Paysage près d'Anvers)
Date
Medium
Oil on canvas
Dimensions
23 5/8 x 31 7/8 inches (60 x 81 cm)
Credit Line
Solomon R. Guggenheim Museum, New York Thannhauser Collection, Gift, Justin K. Thannhauser, 1978
Accession
78.2514.1
Copyright
2016 Artists Rights Society (ARS), New York/ADAGP, Paris
Artwork Type
Movement
On View in
Georges Braque exhibited his work publicly for the first time in March 1906 at the Salon des Indépendants in Paris. The seven paintings he showed there—which he later destroyed—were done in a style that combined naturalistic color with Impressionist brushstrokes. At the exhibitors' opening, he met André Derain and Henri Matisse, whose work was considerably more advanced than his. Derain showed three forceful pictures at that Salon, and Matisse exhibited his revolutionary Le Bonheur de vivre (The Joy of Life, 1905–06). These brightly colored and vigorously painted Fauve works disquieted Braque and gave him much to think about when he returned home to Le Havre later that spring.
In June 1906 Braque and his fellow Havrais painter Emile-Othon Friesz traveled to Antwerp, one of the most active ports in Europe, where Friesz had worked the previous summer. The city was in some ways like a larger version of Le Havre, so it offered the advantage of providing familiar motifs while being foreign enough to give them the feeling of being abroad. This sense of displacement may well have encouraged them to take greater liberties in their paintings. They stayed on the left bank of the Scheldt River; Landscape near Antwerp (Paysage prés d'Anvers, 1906) is set on the dunes there. On the opposite bank, we can see one of the large commercial buildings and some of the smaller houses along the embankment. Near the center of the painting is the brightly colored spar of a sailboat, and in the distance off to the right are the more elaborate masts of a group of schooners.
The color scheme reflects Braque's interest in the chromatic boldness of Fauve painting. If this and related works can be said to have initiated Braque's Fauve period, it is not only because of their imaginative color, but also because of the emphasis that Braque gave to the patterning of forms on the surface of the canvas. A good deal of the canvas ground is left showing, and there is no evidence of preliminary pencil drawing. Rather, the work was executed following Paul Cézanne's practice of painting and drawing at the same time. The wedgelike form of the water has the interesting effect of seeming to follow a one-point perspective into deep space while at the same time asserting itself very strongly as a finely designed flat shape. This tension between surface and depth is maintained by the dotted accents of color in the water: they articulate the depth of the area near the mound of earth, but at the same time they strongly restate the surface of the picture. In its finely balanced color harmonies and inventive brushwork, and in the attention that Braque gave to its underlying structure, Landscape near Antwerp anticipates the more fully realized paintings that he would produce at L'Estaque the following fall.
Jack Flam