Artist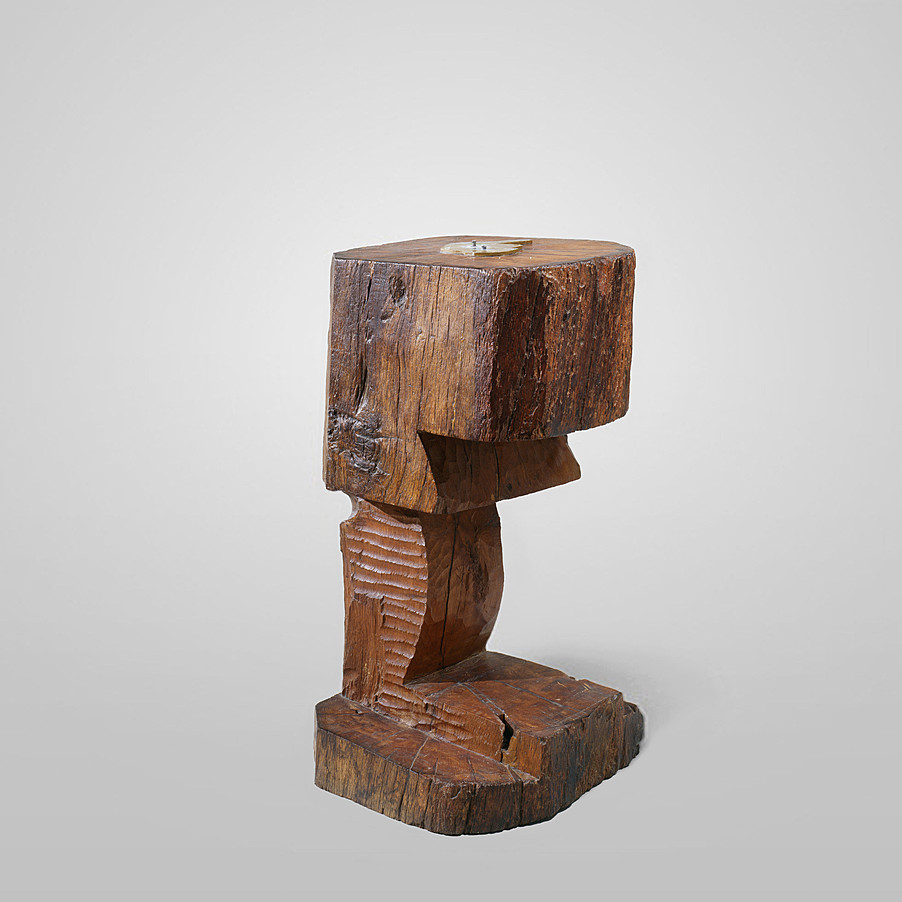 Constantin Brancusi
Watchdog (Chien de garde)
Artist
Constantin Brancusi b. 1876, Hobitza, Romania; d. 1957, Paris
Title
Watchdog (Chien de garde)
Date
Medium
Oak
Dimensions
29 x 15 3/16 x 14 1/2 inches (73.7 x 38.6 x 36.8 cm)
Credit Line
Solomon R. Guggenheim Museum, New York
Accession
58.1503
Copyright
2016 Artists Rights Society (ARS), New York / ADAGP, Paris. Photo: David Heald © SRGF
Artwork Type
Movement
In the mid-1910s, Brancusi began creating sculptures made from salvaged oak beams he had obtained from demolition contractors in Paris. Having been driven away from handicraft techniques during his academic training, Brancusi was inspired to revisit them through this new encounter with an old material—old wood," as he referred to it.1 For Brancusi, wood exacted a tendency toward Expressionism, resulting in unique carved objects. While his stone and metal sculptures represent archetypal forms, such as embracing figures and birds in flight, individual works in wood suggest specific characters or spiritual entities.
Watchdog (Chien de garde, 1916) is often designated as the base for The Sorceress (La sorcière, 1916–24), a piece carved from walnut and interpreted as a flying witch common to Romanian folktales. Never clarifying the visual sources for his designs, Brancusi preferred instead to promote an air of mystery surrounding their origins. Although scholars have widely debated the extent to which Brancusi's work was inspired by African sculpture and Romanian folk carvings, it is clear that he was acutely responsive to "primitivizing" influences early in his career. Paul Gauguin's technique of direct carving to emulate the raw quality of indigenous Tahitian art inspired Brancusi to experiment with more daring approaches to sculpture than his academic training had previously prescribed.
Brancusi's sculptures often rest atop hand-carved bases that contain geometric designs and are at times highly decorated, possessing their own sculptural qualities. The stacked forms of the object and its base simultaneously maintain identities as separate works of art and as entire structures. Here, Watchdog can both stand alone as an independent sculpture and, with the addition of a limestone wedge, act as a counterpart for The Sorceress.
1. Marielle Tabart, "Têtes d'Enfant," in Serra Brancusi: Constantin Brancusi and Richard Serra, A Handbook of Possibilities, exh. cat. (Basel: Fondation Beyeler, 2011), pp. 89'Äì98.