Artist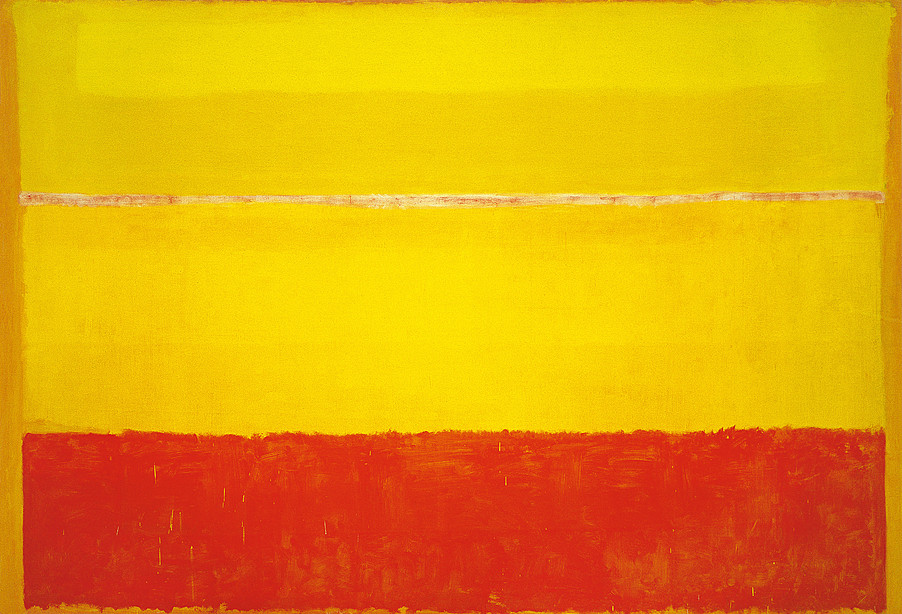 Mark Rothko
Untitled (Titulurik gabea)
Artist
Mark Rothko American, b. 1903, Dvinsk, Russia; d. 1970, New York
Title
Untitled (Titulurik gabea)
Date
Medium
Oil on canvas
Dimensions
9 feet 10 1/8 inches x 14 feet 6 3/16 inches (300 x 442.5 cm)
Credit Line
Guggenheim Bilbao Museoa
Accession
GBM1996.4
Copyright
2012 Kate Rothko Prizel and Christopher Rothko/Artists Rights Society (ARS), New York
Artwork Type
Movement
One of the central figures of the New York School, Mark Rothko is best known for his mature idiom, first seen in his paintings of 1949—large-scale compositions comprising stacked, hovering rectangular fields of luminous color. Rothko emphatically rejected the reading of his work in merely formal, aesthetic terms, insisting that he was "not interested in the relationship of color or form or anything else." Rather, he used abstract means to express "basic human emotions—tragedy, ecstasy, doom, and so on," earnestly striving to create an art of awe-inspiring intensity for a secular world. Those viewers who broke down and wept before his paintings, he stated, had "the same religious experience I had when I painted them."¹
The Guggenheim Museum Bilbao's Untitled (1952–53) was featured prominently in a 1954 exhibition at the Art Institute of Chicago, the first solo exhibition of Rothko's mature work in a major American museum. The show comprised eight paintings carefully arranged in a relatively compact and low-ceilinged gallery. Hanging freely from the ceiling near the entrance, Untitled established the prevailing tone, receiving visitors with an inescapable frontality that allowed them no refuge in distance. Scale was an enormously important factor for Rothko: as he explained in a 1951 symposium, he painted on such a large scale not in order to produce something "grandiose and pompous," but rather "precisely because I want to be intimate and human. To paint a small picture is to place yourself outside your experience, to look upon an experience as a stereopticon view or with a reducing glass. However you paint the larger picture, you are in it. It isn't something you command."
In the later 1950s and the 1960s Rothko was commissioned to produce several mural ensembles for specific interior spaces: the Four Seasons restaurant in the Seagram Building, New York (a selection of which was ultimately donated to the Tate in London as a "Rothko Room"); Harvard University's Holyoke Center; and what became known as the Rothko Chapel in Houston, Texas. Although Untitled is an autonomous work and was not conceived with a particular site in mind, this monumental piece—one of only two paintings from this period on such an immense scale—might be considered among the first of Rothko's true murals. The painting is somewhat unusual in its horizontality, as Rothko tended to prefer a vertical format. Later in his career, several isolated horizontal-format works would appear, but their lateral expansion was not as extreme. Here, experienced at relatively close proximity as the artist intended, the extended format expands beyond the observer's lateral field of vision, so that the painting seems to open itself up and transcend its limits.
1. Mark Rothko, quoted in Selden Rodman, Conversations with Artists (New York: David-Adair, 1957), pp. 92–94; reprinted in Miguel López-Remiro, ed., Writings on Art: Mark Rothko (New Haven: Yale University Press, 2006), pp. 119–20.
2. The work that occupied this place in the show has been the subject of some confusion. Exhibition-related materials refer to it as No. 10. David Anfam concludes that it is most likely the Guggenheim Museum Bilbao's work. See David Anfam, Mark Rothko: The Works on Canvas (New Haven: Yale University Press, 1998), pp. 72, 100 n. 35 (cat. no. 483).
3. Mark Rothko, in "A Symposium on How to Combine Architecture, Painting, and Sculpture," Interiors 10 (May 1951), p. 104. The symposium, organized by Philip Johnson, was held at the Museum of Modern Art, New York, in 1951.