Artist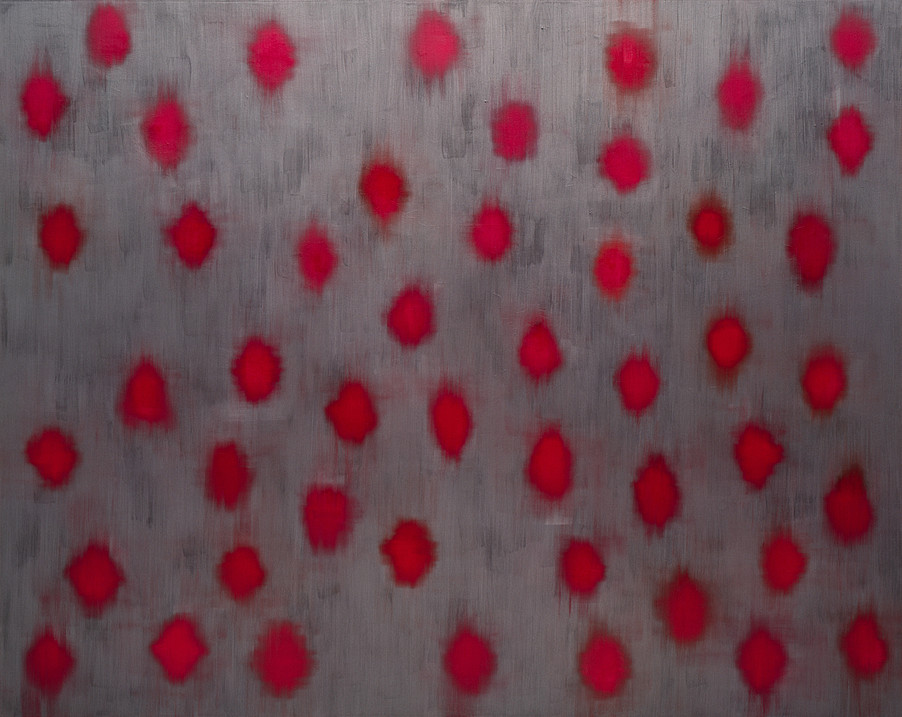 Ross Bleckner
Throbbing Hearts
Artist
Ross Bleckner b. 1949, New York City
Title
Throbbing Hearts
Date
Medium
Oil, powdered pigment, and wax on canvas
Dimensions
96 1/8 x 120 1/4 inches (244.2 x 305.4 cm)
Credit Line
Solomon R. Guggenheim Museum, New York Gift of the artist, 1995
Accession
95.4485
Copyright
Ross Bleckner
Artwork Type
Movement
In his 1979 article "Transcendent Anti-Fetishism," Ross Bleckner called for an art of the "psychologized object" that would connect with a "larger psychological, social, and political reality." The desire to reexamine the allegorical and metaphorical dimensions of art that arose among artists in the late 1970s was a response to the primacy of formal and perceptual issues at this time and the heated denial of content in critical writing about Minimalism. These issues were also central to the 1980s revival of painting, of which Bleckner was a significant figure, providing a model for other artists developing conceptually based work. He made canvases that bridge the gap between the transcendental ideals of high Modernist abstraction and Minimalism's assertion of the picture plane as a strictly material surface. In his attempt to revive painting after its critically pronounced death, Bleckner rehabilitated the debased style of Op art, softening the authority of its hard edges in his early 1980s stripe paintings.
In 1984 Bleckner began a body of work incorporating ghostly semitransparent imagery set against dark, spatially illusionistic fields. Through a proliferation of floating urnlike vessels, trophies, garlands, and flowers, the artist created a morbid fin-de-siècle dream space. The memorial symbols in these works have been widely perceived as a response to the AIDS epidemic and its profound impact on the art world. Bleckner's subsequent motifs are even more elegiac and directly related to the ravages of AIDS—starry skies; the architecture of basilicas; markings resembling Kaposi's sarcoma and immunodeficient cells; and a constant suggestion of a glowing, otherworldly light.
Throbbing Hearts (1994) maintains the melancholy quality of all Bleckner's work. The passages of luminous red pigment floating on a silvery gray field suggest the pulsing hearts of the painting's title. Like other iconic forms in the artist's work, the heart—traditionally considered the bodily seat of love and faith—is richly evocative. Bleckner's hearts may be considered metonymic allusions to individual beings. "I have always thought of painting as skin, in a sense holding things back, 'in place,' existing tensely over that that it represses," Bleckner said in a 1988 interview. "The painter then X-rays parts that the skin covers and uncovers them. The metaphor is obviously figurative (skin protecting the fragility of that that it conceals) but I want the result to be abstract: it transforms itself in the making from the idea of an organ (like a throbbing close to the chest) into an idea about just throbbing."1
Jennifer Blessing
1. Ross Bleckner, interview with John Zinsser, Journal of Contemporary Art 1, no. 1 (Spring 1988), p. 45.