Artist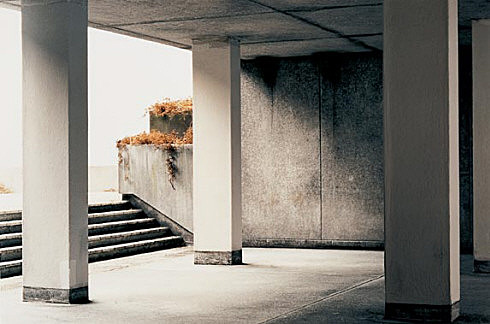 Oliver Boberg
Passage
Artist
Oliver Boberg b. 1965, Herten, Germany
Title
Passage
Date
Medium
Chromogenic print
Dimensions
29 1/16 x 39 1/16 inches (73.8 x 99.2 cm)
Edition
edition 4/5
Credit Line
Solomon R. Guggenheim Museum, New York Purchased with funds contributed by the Young Collectors Council, 1999
Accession
99.5308
Copyright
Oliver Boberg
Artwork Type
In his photographs of fictive architectural sites, Oliver Boberg poses questions about the medium of photography and the act of viewing. Utilizing his training as a painter, he fashions realistic sculptural versions of banal buildings and public spaces and then contrives careful lighting designs in order to enhance their believability. As with artists James Casebere and Thomas Demand, Boberg's models are created for the sole purpose of being photographed; they are three-dimensional sculptures meticulously designed to function as two-dimensional images. While this work is connected to the architectural photography of Bernd and Hilla Becher, these inheritors of this largely German tradition have increasingly turned their attention to issues of photographic veracity. If a real object in real space can be recorded in such a way as to evoke a completely different subject and place, then the issue raised is that of perception, of the expectations the viewer brings to a given photograph. Boberg's suggestion is that we approach images with models of what we expect to see already in mind, models that photographs merely confirm, models like the ones that the artist constructs.
In the work Night Sites (Nacht-Orte, 2002–03), Boberg turned to film to investigate and subvert the experience of cinematic absorption. Each of the seven 16-mm films that make up this piece is a continuous loop of an "establishing shot" of a rural site in which nothing happens, save the film's ambient sound track. Since these establishing shots do not turn out to be setups for the following shots of a story, as one might have anticipated, the viewer is instead left with the awareness of his or her own inflated expectations about the medium at hand.
Despite his pictures' artificiality, Boberg is able to create a remarkable sense of atmosphere. The absence of people in the drab entranceway to a building depicted in Passage (1999) is made ominous by the movement from light to dark, from outside to the edge of inside within the photograph. The uniformity and rigid geometries the artist chooses may reference, and critique, the attempted universality of German postwar architecture. In Boberg's hands these idealized structures are shown at their most hackneyed and seem to fall victim to wear and decay. The decorative plants overgrow their boundaries in Passage, and the once-pristine white of the industrial building in Parking Lot (1999) appears sullied and aged.