Artist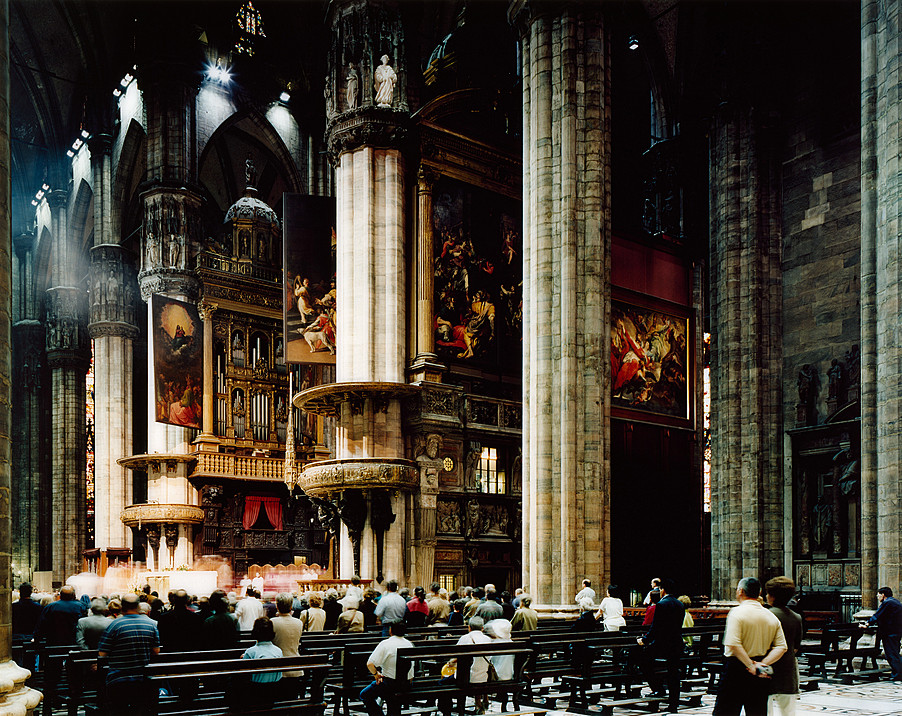 Thomas Struth
Milan Cathedral (Interior) (Mailänder Dom [Innen])
Artist
Thomas Struth b. 1954
Title
Milan Cathedral (Interior) (Mailänder Dom [Innen])
Date
Medium
Silver dye bleach print, face-mounted to acrylic
Dimensions
image: 68 3/8 x 86 3/8 inches (173.7 x 219.4 cm); sheet: 71 1/8 x 89 inches (180.7 x 226.1 cm)
Edition
edition 4/10
Credit Line
Solomon R. Guggenheim Museum, New York Purchased with funds contributed by the Harriett Ames Charitable Trust and the International Director's Council and Executive Committee Members: Edythe Broad, Henry Buhl, Elaine Terner Cooper, Gail May Engelberg, Linda Fischbach, Ronnie Heyman, Dakis Joannou, Cindy Johnson, Barbara Lane, Linda Macklowe, Peter Norton, Willem Peppler, Denise Rich, Simonetta Seragnoli, David Teiger, Ginny Williams, and Elliot K. Wolk, 1999
Accession
99.5301
Copyright
Thomas Struth
Artwork Type
Moving freely from one genre to another, intermingling them in exhibitions and publications, Thomas Struth brings an intense level of visual exactitude to the images he creates. While the subject matter varies—from a mist-laden view of a Japanese temple and a close-up of a sunflower to a pensive family portrait and a picture of the Louvre crowded with visitors—the fundamental theme of his practice does not change. Struth's photography contemplates the science of observation. Eschewing narrative devices and intentional psychological allusions, the work augments vision itself by bringing into focus details too numerous for the eye to capture in an instant. A Struth image does not freeze time in the conventional sense of documentary photography; instead it slows time down just enough to capture the myriad visual nuances that one can only experience through sustained examination.

Struth's early black-and-white cityscapes—images of barren urban streets photographed from one central perspective—elicit comparisons to Bernd and Hilla Becher's typological studies of industrial structures. Struth had studied with the couple at the Academy of Fine Arts in Düsseldorf during the 1970s and shared their systematic, objective approach to subject matter. But it was another of Struth's professors at the Academy, Gerhard Richter, who made a lasting impression on the young artist's work. Richter's conceptual engagement with the photographic and his practice of working in simultaneous series is evident in Struth's own ongoing series of landscapes, street scenes, flowers, portraits, museum interiors, and places of worship. The Richter Family I, Cologne is a penetrating depiction of the artist's former mentor with his wife and young children.

Struth's photographs of historic churches and temples, which function today as both religious sites and tourist destinations, always include people. Like his museum interiors, images of places such as San Zaccaria in Venice and the Buddhist monastery Todai-Ji in Nara, Japan, portray visitors in various stages of absorption. In Milan Cathedral (Interior), these visitors turn away from the camera to survey their environment, observe the Renaissance paintings, study their guidebooks, or pray. Shot at an oblique angle and lit with the utmost clarity, this dynamic composition captures both the complexity of the cathedral's celebrated architecture and the many separate vignettes being enacted by the individuals present at the moment the photograph was taken.