Artist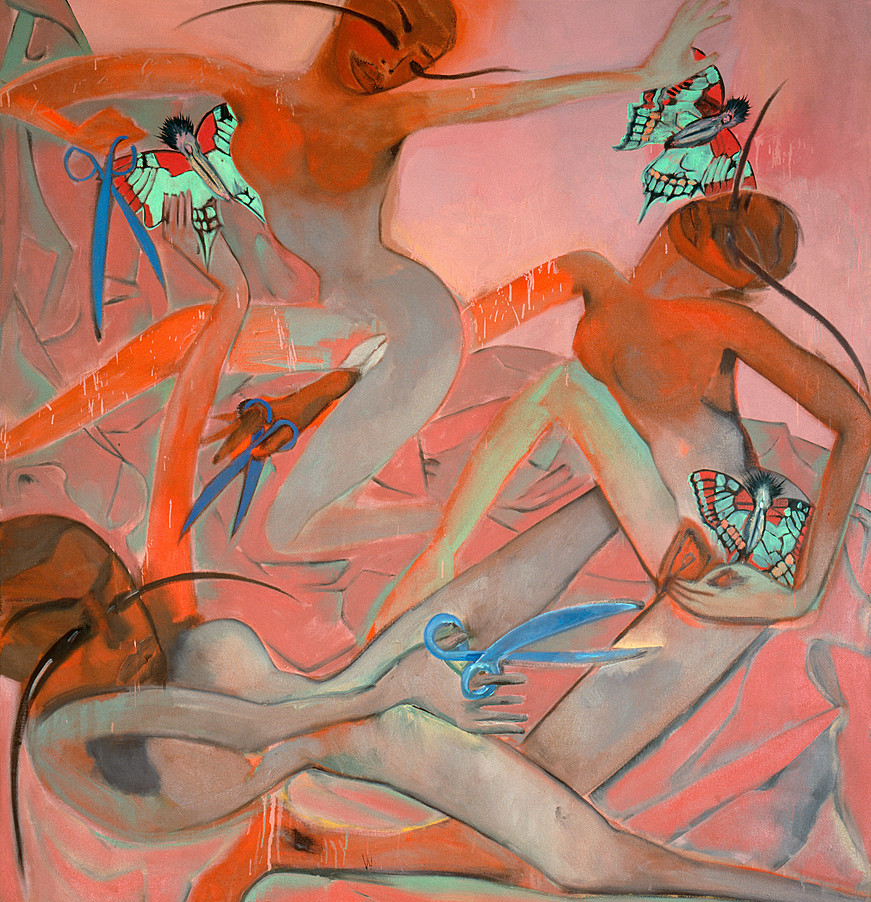 Francesco Clemente
Scissors and Butterflies
Artist
Francesco Clemente b. 1952, Naples, Italy
Title
Scissors and Butterflies
Date
Medium
Oil on linen
Dimensions
92 x 92 inches (233.7 x 233.7 cm)
Credit Line
Solomon R. Guggenheim Museum, New York Anonymous gift, 1999
Accession
99.5280
Copyright
Francesco Clemente
Artwork Type
Movement
In the years around 1980, Francesco Clemente was one of a group of young Italian painters who broke free from the sterile abstraction of Minimalism and the humble materialism of Arte Povera, movements that had pronounced painting, especially figurative painting, a dead medium. The painting revival—identified as the Transavanguardia by critic Achille Bonito Oliva—that began in Italy sparked an international stylistic shift that persisted throughout the 1980s and involved artists such as Georg Baselitz, Anselm Kiefer, and Julian Schnabel. Also known as Neo-Expressionism, this movement revitalized painting and brought back individual expression by using sensuous color, gestural technique, narrative content, and the human figure on a grand scale.
Scissors and Butterflies, although from a later stage in Clemente's oeuvre, exemplifies the most sensual and visually forceful aspects of this style. The painting reveals recurrent themes in Clemente's work: a sense of the exotic; explicit sexual imagery; and metamorphoses between human and animal forms. The eyelashes of the female figures have been transformed into elongated insect antennae, echoing the sharp, curving forms of the scissors blades. Individual limbs are difficult to distinguish as the women's writhing bodies merge with and seem to penetrate each other. The pervasive sense of anxiety and violence—accentuated by the open scissors—intensify the composition's eroticism, as does the heated red and electric green palette. A radical take on the three graces, Clemente's provocative nudes are more than a fanciful trio in a dreamlike setting. At once feminine and masculine, whimsical and savage, passive and hostile, these muses transgress traditional boundaries.
Clemente's metaphoric vocabulary is deeply rooted in the body, and the artist's many variations on the human form indicate its primacy as a symbol for how he envisions the world. Representing both wholeness and fragmentation, freedom and constriction, the body is Clemente's ultimate vehicle for expressing life's dualities, especially in the many portraits and self-portraits produced throughout his career. In this painting, the fragile delicacy of butterfly wings is juxtaposed with the women's salacious positions and the sharp, menacing scissors. As in much of Clemente's work, bodily orifices—eyes and genitals—are prominent. For him, these sensitive regions serve as channels between the interior realm of the psyche and the exterior world of nature, culture, and "the other." An artist with close ties to Italy, America, and India, Clemente has always used the influence of foreign cultures to explore the interface between self and surroundings.
Bridget Alsdorf