Artist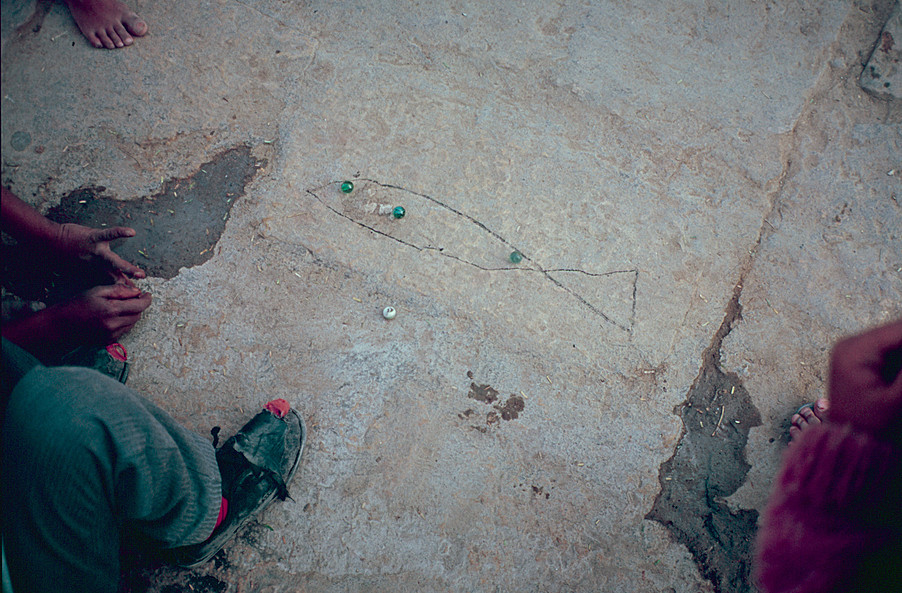 Gabriel Orozco
Nike Town
Artist
Gabriel Orozco b. 1962, Jalapa, Mexico
Title
Nike Town
Date
Medium
Silver dye bleach print
Dimensions
image: 12 1/2 x 18 3/4 inches (31.8 x 47.6 cm); sheet: 16 x 20 inches (40.6 x 50.8 cm)
Edition
edition 5/5
Credit Line
Solomon R. Guggenheim Museum, New York Purchased with funds contributed by the Photography Committee, 1999
Accession
99.5270
Copyright
Gabriel Orozco
Artwork Type
Gabriel Orozco's multimedia works are philosophical investigations of form, medium, and installation. In his own exhibitions, he often employs sculpture, drawing, photography, installation, and video and recycles older work into sometimes new mediums and contexts. The readymade is central to Orozco's process. He frequently manipulates what he discovers by arranging found materials (a deflated soccer ball, cans of cat food, simple planks of wood) and photographing his constructions. Sometimes he transforms the ordinary just by suggesting a form in a seemingly banal image, as in Pulpo (Octopus, 1991), which bestows meaning on a tangle of pipes. Here the readymade is not so much a thing found as a dynamic and poetic interaction between artist and object.
Orozco plays photography and sculpture off against one another to create compelling hybrids in the service of his interest in the "lightening of mass." This involves streamlining or hollowing out objects that at first appear heavy and cumbersome, as in the sculpture La DS (1993, pronounced like la déesse, French for goddess), a trisected Citröen automobile seamlessly reassembled without the middle section. In Dos Parejas (Two Couples, 1990), heavy industrial objects are playfully anthropomorphized by their title as their sculptural mass is negated through photographic reproduction. In Photogravity (1999), Orozco mounted large versions of his old photographs on spindly legs to produce a sort of two-dimensional sculpture. He uses one medium to expose another''s limits: photography can strip sculpture of its mass, but it always lacks the real thing that it pictures.
Orozco's photographs document chance encounters with sites and objects in his native Mexico and other locations around the world, including Brazil, Germany, Iceland, India, and New York. "I'm looking for different kinds of contexts . . . I want to make something in a very clean, white space. Then I want to get outside . . . I grew up in museums, but I also grew up in the streets." Acutely attentive to the various receptions his work engenders in different locations, he seeks to make his viewers aware of their own cultural boundedness. His work ultimately promotes "deterritorialization," within which a multiplicity of viewpoints is recognized and none can take precedence. Pelota en agua (Ball on Water, 1994) first appears to be a photograph of a cloud-streaked sky, but turns out to be a reflection captured in a puddle, evidenced by a half-submerged ball. This conflation of sky and earth, lofty and lowly, is emblematic of Orozco's attempt to bridge the distance between oppositional themes and sites.