Artist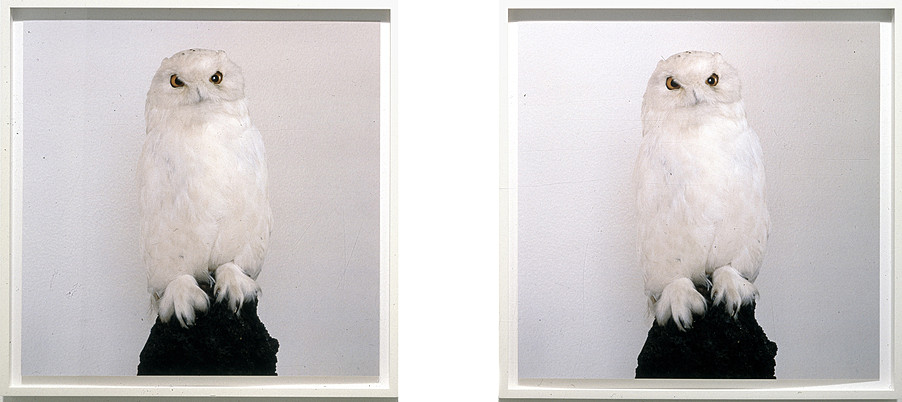 Roni Horn
Dead Owl
Artist
Roni Horn b. 1955, New York City
Title
Dead Owl
Date
Medium
Two ink jet prints
Dimensions
29 x 29 inches (73.7 x 73.7 cm) each
Edition
edition 1/15
Credit Line
Solomon R. Guggenheim Museum, New York Gift of the artist and Matthew Marks Gallery, 98.4644
Accession
98.4644
Copyright
Roni Horn
Artwork Type
Two blocks of blue glass—identical but different—sit on the floor in relative proximity to one another. Transparent wells of light, they are at once pure depth and reflective surface. As in Roni Horn's metal sculpture—including pairs of solid copper cones—a perfect convergence between interior and exterior transpires. Only here, the oscillation between the two dimensions is visible, even palpable. The work is one of Horn's "pair objects," which exploit the principle of duplication in order to explore the concept of unity. The twin components reveal themselves simultaneously and sequentially. Through its repetition of form, Untitled (Flannery) embodies a here and a there. It is a site marked by traversal and progression, requiring the viewer to move from one element to the other in a dialectical experience of part to whole. Ideally installed with one block illuminated by sunlight and the other nearby in shadow, the work imagines the passage of a day from dawn until dusk; its temporal narrative also encompasses a now and a then.
Untitled (Flannery) is an ode to blueness. Profoundly allusive, blue can connote a musical genre; a state of melancholy; or an aristocratic pedigree. Blue is visible everywhere in nature; it is the color of the ether that surrounds us. Blue is a tangible reality, but one that remains infinitely out of reach. According to the artist, the sculpture is a window that opens onto a state of blueness, the depths of which mine metaphysical and psychological territories.
The diptych Dead Owl—for which the artist photographed a stuffed snowy owl twice—is also a pair object. This work derives from Arctic Circles, the seventh volume of Horn's ongoing series of publications collectively entitled To Place, in which she maps her physical and emotional interaction with the topography, climate, and architecture of Iceland, a country she has traveled to repeatedly since 1975. Each volume engages a distinct system of knowing, a way of recording perception that reveals as much about Iceland as it does Horn's own insights into her ever-shifting identification with this island nation. A photographic essay, Arctic Circles records the endless horizon of the North Sea, the feathers of an eider nest, and the rotating beacon of a lighthouse, invoking in form the very circumference of Iceland. The owls' double stare, as it loops outward and back, seems to form a figure eight—the sign of infinity—while the dual images perpetuate a constant and essential shifting between identity and difference.
Nancy Spector